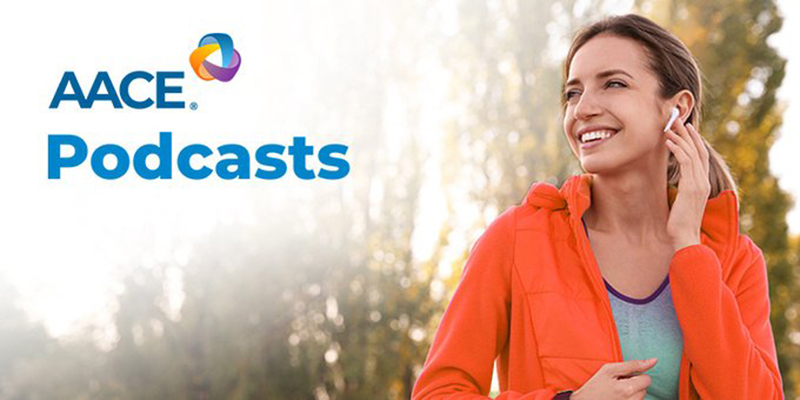 Welcome to AACE Podcasts! To view podcast episode descriptions, hover your mouse over the bottom right corner of each episode box, and click the "i" circle. Happy listening!
Notice:
The copyright to the contents of this Podcast is owned by the American Association of Clinical Endocrinology ("AACE"). All rights reserved. Users of this Podcast may save and use the information contained in the Podcast only for personal or other non-commercial purposes. No other use, including, but not limited to, educational, reproduction, retransmission or editing, of this Podcast may be made without the prior written permission of AACE. Permission may be requested by contacting AACE via email at [email protected].  
Disclaimer:
The statements and opinions expressed in this Podcast are solely those of the authors and not of AACE. The information, opinions, and recommendations presented in this Podcast are for general information only and any reliance on or use of the information provided in this Podcast is done at your own risk. This Podcast is not intended to be a substitute for professional medical advice, diagnosis or treatment. Always seek the advice of your physician or other qualified health care provider regarding any medical condition or treatment and before undertaking a new health care regimen, and never disregard professional medical advice or delay in seeking it because of something you have read or heard in this Podcast. Unless specifically stated otherwise, AACE does not endorse, approve, recommend, or certify any information, product, process, service, or organization presented or mentioned in this Podcast, and information from this Podcast should not be referenced in any way to imply such approval or endorsement. The third-party materials or content of any third-party site referenced in this Podcast do not necessarily reflect the opinions, standards or policies of AACE. AACE assumes no responsibility or liability for the accuracy or completeness of the content contained in third party materials or on third party sites referenced in this Podcast or the compliance with applicable laws of such materials and/or links referenced herein. Moreover, AACE makes no warranty that this Podcast, or the server that makes it available, is free of viruses, worms, or other elements or codes that manifest contaminating or destructive properties.  
AACE EXPRESSLY DISCLAIMS ANY AND ALL LIABILITY OR RESPONSIBILITY FOR ANY DIRECT, INDIRECT, INCIDENTAL, SPECIAL, CONSEQUENTIAL OR OTHER DAMAGES ARISING OUT OF ANY INDIVIDUAL'S USE OF, REFERENCE TO, RELIANCE ON, OR INABILITY TO USE, THIS PODCAST OR THE INFORMATION PRESENTED IN THIS PODCAST.