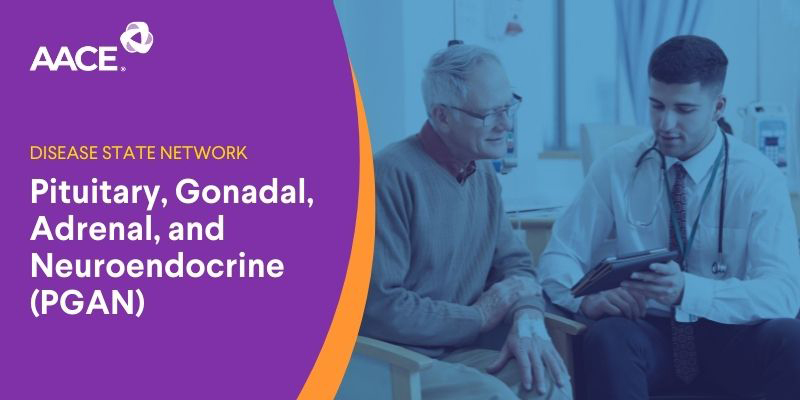 Archived: This blog is from our 2021 Pituitary, Gonadal, Adrenal, and Neuroendocrine (PGAN) Disease State Network
The pituitary, gonadal, adrenal, and neuroendocrine (PGAN) disease state network (DSN) is one of the most topically inclusive DSNs. To expand this inclusivity to our members, we at the DSN are here to represent and work for the AACE community. Together we will be proposing, developing, and disseminating topics of interest to PGAN, but we really need your involvement. With your help, we hope to address knowledge deficits and highlight areas in need of action. Your voice matters.
The committee is composed of a Chair and 3 Vice Chairs, two of whom are involved in content development and one Vice Chair who is involved in the Professional Resource Center. Let me introduce you to this year's team. My name is Diane Donegan, I am an Assistant Professor of Clinical Medicine at Indiana University and have a have a special interest in pituitary disorders. As the chair of the PGAN DSN, my aim is to engage healthcare workers in developing a collaborative community with the intent of improving patient care through expert care.
Ann Sweeney is one of our Vice Chairs of content development. Ann describes herself as a general endocrinologist with a special interest in adrenal disease and works at St Elizabeth's Medical Center in Brighton, Massachusetts where she is also the Medical Director of the Steward Diabetes Centers in Massachusetts. Adriana Ioachimescu, a longstanding active member of AACE, is our second vice chair of content development. Adriana is a Professor of Endocrinology at Emory University, Atlanta where she coordinates the clinical and research activities of their pituitary center. Adriana is dedicated to increasing awareness of acromegaly and Cushing's syndrome, so that we can achieve an early diagnosis and personalized treatment for patients. Lastly and by no means least, Fady Hannah-Shmouni is our third vice chair involved with the Professional Resource Center. Fady is a neuroendocrinologist and biochemical geneticist at NIH who recently joined Levitee Labs (CSE: LVT) as Chief Medical and Scientific Officer. His clinical and research interests include the diagnosis and management of neuroendocrine conditions, endocrine hypertension disorders, and inborn metabolism errors.
As you can appreciate, we have diverse backgrounds, but we still need your input to be fully representative of this DSN. We are requesting your assistance. We would like to hear your ideas for talks, presentations, or podcasts. What sessions do you wish were available at meetings? Let us know! Please send ideas to [email protected]. We are extremely excited to work as a team for this community. The forecast for endocrine advances in this field is excellent, and together we will strive to disseminate the latest scientific and clinical practice information, but as they say, together we can do better!
Join our AACE PGAN Disease State Network to contribute to the governance and content of our organization. As an expert volunteer, you will serve as physician liaisons, faculty, or program editors for AACE educational programs and authors or reviewers for AACE white papers and guidelines. 
Learn More
Let us know what topics you're most interested in learning about by leaving a comment below!