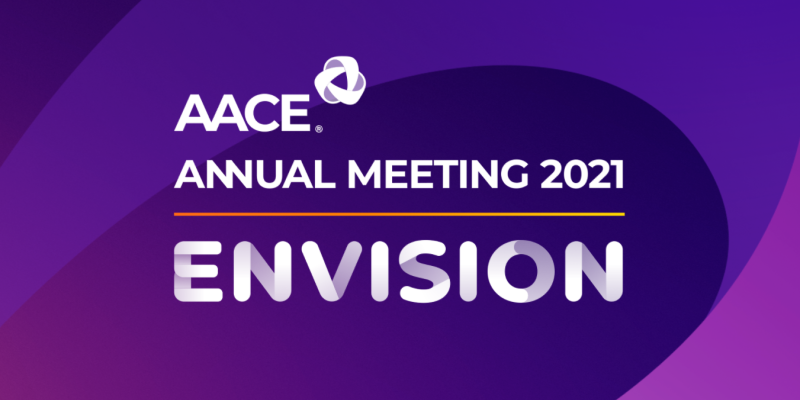 May 2021
Congratulations to our 2021 Awards, MACE and FACE recipients. All recipients will be honored during our 2021 Annual Meeting. Please join us in celebration of all of the below well-deserving individuals who are helping to advance our mission of elevating clinical endocrinology to improve global health.
2021 AACE Awards
View a special section highlighting the 2021 AACE Award winners and read their bios.
Frontiers in Science & Distinction in Endocrinology Award
Michael Levine, MD, FAAP, FACP, MACE
Hossein Gharib MD, Educational Lectureship Award
Megan Haymart, MD
Alan J. Garber, MD, PhD, MACE Lectureship Award
Gary Lewis, MD
H. Jack Baskin, MD, Endocrine Teaching Award
Rana Malek, MD
Yank D. Coble, Jr., MD, Distinguished Service Award
Bart L. Clarke, MD, FACP, FACE
Outstanding Corporate Partner Award
Lilly Diabetes
Outstanding National Clinician Award
J. Michael Gonzalez-Campoy, MD, PhD, FACE
Outstanding International Clinician Award
Sujoy Ghosh, MD, FACE, DM, FRCP
Outstanding Service Award for Promotion of Endocrine Health of an Underserved Population
Lubna Mirza, MD
Rising Star in Endocrinology Award
Ricardo Correa, MD, EdD, FACE, FACP
Rising Star in Endocrinology Award
Maria Papaleontiou, MD
Rising Star in Endocrinology Award
Viral Shah, MD
FACE/MACE Recipients
Congratulations to our 2021 Fellows as they earn their FACE/MACE designations. This is an AACE ceremony of tradition, transition, renewal, and celebration. To view the full convocation program, click the link below all names.
Master of American Association of Clinical Endocrinology (MACE)
Francisco Bandeira, MD, PhD, FACE
W. Timothy Garvey, MD, FACE
Fellow of American Association of Clinical Endocrinology (FACE)
Addison, Brandi
Corpus Christi, TX
Agrawala, Ritesh
Bhubaneswar, Odisha, India
Ahmad, Shazia
Hampden, ME
Alquraini, Hussain
Alhafouf, Saudi Arabia
Al-Sarihin, Khaldon
Amman, Jordan
Behera, Kishore
Khordha, Odisha, India
Cheng, Jennifer
Neptune, NJ
Chitra, Mandayam
Bangalore, Karnataka, India
Choudhury, Bipul
Guwahati, Assam, India
Dasgupta, Arundhati
Uttorayon Siliguri, India
Desai, Kaniksha
Redwood City, CA
Garg, Manisha
Montgomery, AL
Gupta, Amit
Greater Noida, Uttar Pradesh, India
Janmohamed, Salim
London, United Kingdom
Mukherjee, Sagarika
Kolkata, West Bengal, India
Nair, Rani
Springfield, MO
Nicholson, Matthew
Augusta, GA
Patham, Bhargavi
Houston, TX
Pattan, Vishwanath
Casper, WY
Rettinger, Sarah
Los Angeles, CA
Sagi, Satyanarayana
Peterborough, United Kingdom
Segkos, Konstantinos
Orem, UT
Srivastava, Brijendra
Chennai, Tamil Nadu, India
Srivastava, Swati
Jaipur, Rajasthan, India
Tamhane, Shrikant
Richmond, IN
Tan, Marilyn
Los Altos, CA
Thimmaiah, Jayalakshmi
Bangalore, Karnataka, India
Villanueva, Tish
Los Angeles, CA
Waheed, Najeeb
Al Ain, United Arab Emirates
Wang, Aileen
Hollister, CA