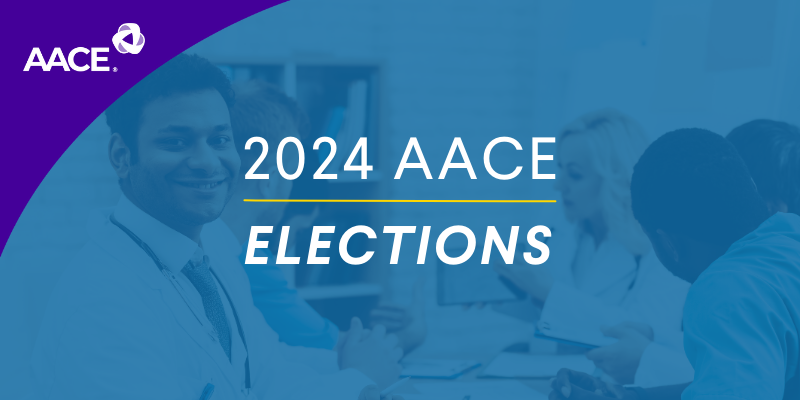 July 2023
The AACE Nominating Committee is seeking nominees for open Officer and Board of Directors positions for 2024. All AACE members are encouraged to self-nominate or recommend other qualified members.
OPEN POSITIONS
The Nominating Committee will review nominations for the following Officer positions for a one-year term (January 1 – December 31, 2024): Click here for a list of current AACE Officers.
President Elect (which will automatically succeed to President on January 1, 2025)
Treasurer
Secretary
The Nominating Committee will also review nominations for five (5) open positions on the Board for a three-year term (2024-2026). One (1) of the five (5) positions is currently vacant due to Dr. Trence being elected as Secretary during the fall 2023 special elections. Board members whose current terms expire on December 31, 2023, and are eligible for reelection are:
Joumana Chaiban, MD, MBA, FACE - Chicago, IL
Navtika R. Desai, DO, ECNU, FACE – Hillsborough, NJ
Kenneth E. Izuora, MD, MBA, FACE – Las Vegas, NV
Matthew J. Levine, MD, FACE – La Jolla, CA
POSITION DESCRIPTIONS – DUTIES & RESPONSIBILITIES
Click on the link for a description of the Duties and Responsibilities for Officers & Board Members.
CRITERIA & KEY ATTRIBUTES OF A SUCCESSFUL OFFICER AND BOARD CANDIDATE
The nomination criteria for a Board member balances a mix of background and attributes, reflecting the diversity and inclusion in AACE membership, thought and perspectives.
The AACE Nominating Committee is charged with presenting a slate of nominees annually for openings on the Board of Directors and for Officers. Committee members will use the following criteria, background, and attributes to evaluate, identify and recommend the most suitable candidates: Background and Attributes of AACE Officers and Board Members | American Association of Clinical Endocrinology.
ELIGIBILITY
AACE member in good standing for three (3) consecutive years prior to taking office.
Engaged membership – Must be at the highest membership tier as determined for one (1) year prior to taking office and remain at the highest membership tier for the duration of the term on the Board.
Self-nominations are accepted.
Board of Directors - Must be willing to serve a three-year term and carry out the Duties and Responsibilities for Board Members.
GUIDELINES FOR NOMINATION OF BOARD MEMBERS AND OFFICERS
Nominations:
Please confirm that the person you are nominating is willing to make the commitment to serve.
Submit the name AND a letter of recommendation. The nominating letter should include comments about why you feel the candidate demonstrates the ability, experience, commitment, and collegiality to represent the needs and concerns of our members and their patients and to continue the successes that AACE has achieved.
An AACE member can only submit one letter of nomination per position (e.g., one nomination letter per Officer position).
Self-Nominations:
Please submit your name and a letter of support from an AACE Member not currently serving on the Executive Committee or Nominating Committee.
REQUIRED INFORMATION AND MATERIALS
Once eligibility for a Board or Officer position is determined, the Nominating Committee will reach out to the nominees with instructions on how to access the online AACE Nomination Submission site, where they will be asked to provide the following information:
Why would you like to serve as an Officer or Board Member?
What contributions will you bring to the Board?
What is your vision for AACE?
What is your personal philosophy related to diversity, equity and inclusion?
Copy of CV in PDF format.
Short Bio.
IMPORTANT DATES AND TIMELINE
The official Call for Nominations for Officer and Board of Directors will open on July 24, 2023.
The deadline to submit a nomination is August 22, 2023.
In accordance with the AACE Bylaws, the Nominating Committee will review the nominations and will submit directly to the AACE Board of Directors a single slate of candidates for open Officer and Board positions to consider for election.
The Nominating Committee wants to consider every deserving AACE member, and your interest and participation in this important process are greatly appreciated.
AACE NOMINATING COMMITTEE
Dr. S. Sethu K. Reddy – Chair
Ms. Suzanne C. Berry – Interim CEO - Ex Officio
Dr. Brandi Addison – DEI Rep
Dr. Howard M. Lando
Dr. Cheryl R. Rosenfeld
Dr. Elizabeth Bauer – At-Large
Dr. Thanh D. Hoang – At-Large
Dr. Diana Isaacs – At-Large
Nominate Now