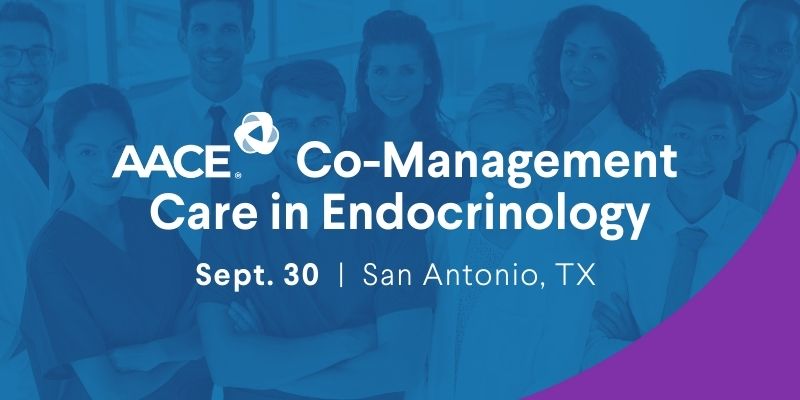 Diabetes, thyroid disorders, and osteoporosis are amongst the most common endocrine disorders initially seen by primary care providers (PCPs). Even when a referral is the best course, many endocrine patients have lifelong conditions that require long-term surveillance and co-management between PCPs and endocrinologists. 
As the number of people living with endocrine and metabolic disorders continues to rise in the U.S., the need for co-management becomes more essential than ever. To support this need, we've created a comprehensive one-day meeting entitled, Co-Management Care in Endocrinology, exclusively for primary care teams to learn about the latest evidence-based assessments, skills, and treatment options to care for patients with endocrine disorders. Join us Friday, September 30, 2022, in San Antonio, TX to gain the necessary knowledge and skills to care for commonly seen endocrine disorders in the primary care setting and co-manage conditions with endocrinology colleagues.
Here's What to Expect:
1. Comprehensive Schedule
Our one-day meeting will feature interactive, state-of-the-art sessions on the latest updates in thyroid, bone, dyslipidemia, obesity, diabetes, and advanced diabetes technology for primary care. Participants can earn up to 7.5 CME/CE/MOC while learning about evidence-based assessment and treatment options for common endocrine disorders. Check out our full agenda here.
2. Networking Opportunities
Connect with other care team members while developing professional relationships with our faculty of speakers. We will be offering a variety of networking breaks throughout the conference including a welcome reception and margarita-making experience on the evening of Sept. 30 at 6:00 PM CDT.
As one of the world's largest clinical endocrinology associations, we are committed to building a more inclusive learning environment for all members of the endocrine care team. We welcome primary care physicians, advanced practice professionals, nurses, pharmacists and diabetes educators, to meet with our leading experts to advance their knowledge and network. By working together, we can address the national need for care teams to play a larger role in endocrine patient management.
3. Historical Location
We're heading to the beautiful Hyatt Regency San Antonio, which is centrally located on the vibrant San Antonio River Walk, with direct access to the historical Alamo. On behalf of our attendees, we have pre-negotiated favorable group rates, but act fast! A limited number of discounted rooms are available. Book early to ensure you obtain the 30% off conference rate throughout your stay.
Register by August 11 to take advantage of our early bird discounted rates!
REGISTER NOW
Interested in Continuing Your Education?
Stay for the weekend and continue your education by also registering for our Cardiometabolic Conference, which starts the evening of September 30, at our welcome reception. After a night of networking with our leading endocrinology experts, join us October 1-2 to earn up to 11.5 CME/CE/MOC, get the first look at the Updated AACE Diabetes Guideline, and learn about the latest clinical updates on diabetes, hypertension, dyslipidemia, obesity and nutrition, NASH, NAFLD, and chronic kidney disease. Plus receive a 15% discount when you register for both meetings!
LEARN MORE