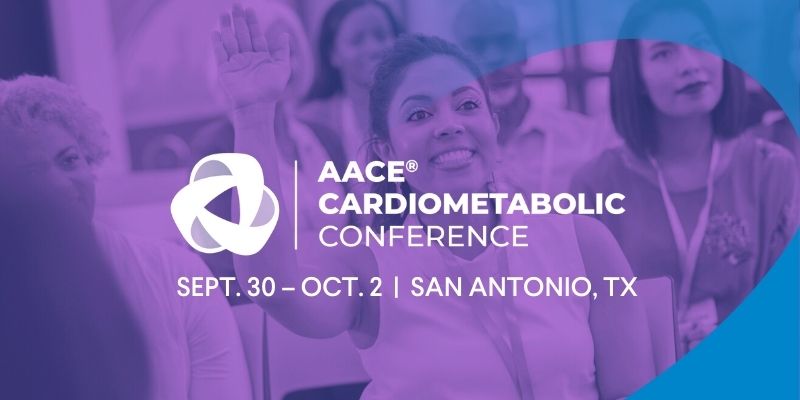 Cardiometabolic disease is evolving into an ever-pressing public health problem as the number of people developing heart disease, kidney disease, and or liver disease continues to increase. To address this global concern, we're bringing together key leaders of cardiometabolic medicine to present the latest clinical practice guidelines, evidence-based assessments, and treatment options for patients with cardiometabolic disease. Join us September 30 – October 2, 2022, in San Antonio, TX, for our annual Cardiometabolic Conference to learn about the latest developments in cardiovascular disease, chronic kidney disease, obesity, lipids, and more.  
Here's What to Expect: 
1. Updated AACE Diabetes Guideline
Be the first to see the new AACE clinical practice guideline update on care of persons with diabetes mellitus, which will be released and discussed live at the meeting on October 1, 2022, at 9:15 AM CDT. Endocrinology, diabetes and metabolism expert, Lawrence Blonde, MD, FACP, MACE, will be presenting the revised and new evidence-based recommendations to assist with decision-making in clinical practice to improve diagnosis, care, management, and treatment of persons with diabetes, as well as diabetes complications and associated comorbidities. These recommendations reflect changes in practice and advances in management with available new therapies, based on recent clinical data, especially for persons with diabetes and cardiovascular disease and those with diabetic kidney disease.  
2. Comprehensive Schedule
Our program features a variety of interactive state-of-the-art lectures and networking opportunities including a welcome reception, plenary sessions, product theatres, poster sessions, and more. Most importantly you'll walk away with new patient-centered approaches and clinical applications of evidence-based guidelines on the following topics:  
Lifestyle interventions for cardiometabolic health 
Type 2 diabetes and cardiovascular risk/health failure  
Cardiovascular disease in women 
Healthcare disparities in cardiovascular disease 
Chronic kidney disease, renal failure  
Diabetes technology  
SGLT-2s, GLP-1 RAS  
NASH and NAFLD  
Hypertension  
Dyslipidemia  
Patient challenges in the ability to self-manage chronic illness  
Check out our full program to view our faculty of speakers and start planning your schedule today.   
3. Earn up to 11.5 CME/CE/MOC
Meet with leaders from the field of cardiometabolic medicine to learn about the latest updates on cardiometabolic disease, while earning up to 11.5 CME/CE/MOC. Learn more about our Accreditation and continuing medical education information here.
4. Discounted Pricing
We are pleased to offer special early bird discounted pricing to all registrants until August 11, 2022. Take advantage of our discounted rates and register today to start receiving conference email updates.   
5. Historical Location
For the first time ever, our annual Cardiometabolic Conference will be held in person and we will not be offering a virtual component to attend. Join fellow endocrine experts at the beautiful Hyatt Regency San Antonio, which is centrally located on the vibrant River Walk, the most popular attraction in San Antonio, TX. With direct access to the historical Alamo, the River Walk is a world-renowned 15-mile urban waterway full of culture, sightseeing, shopping, and restaurants. A must-see location! Plus, we've pre-negotiated favorable group rates with 30% off for our attendees. Book early to ensure you obtain the conference rate throughout your stay. 
Don't miss out on the opportunity to advance your clinical knowledge while developing new connections with like-minded peers. Register today to save your seat!  
REGISTER NOW