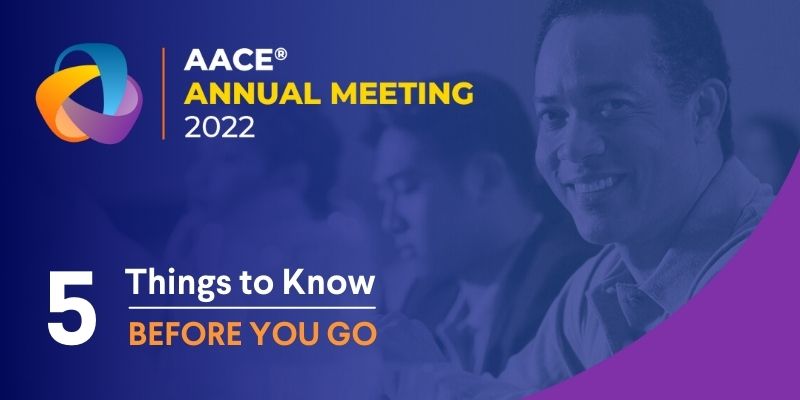 Each year, experts from the field of endocrinology convene at our Annual Meeting to learn about the latest advancements in clinical endocrinology and this year we are heading to sunny San Diego, California! Join your peers May 12-14, 2022, for three days of all-inclusive access to 85 presenters, 21+ hours of live CME, nursing, pharmacy & physician assistant credits, 6 disease state session tracks, networking and more. As the world's largest endocrinology meeting created for all members of the endocrine care team, we have listed the top five things to know before you go!
Top 5 Things to Know:
1. Where to Stay
This year it's all about location, location, location! Our Annual Meeting will be held at the beautiful Hilton San Diego Bayfront situated on the breathtaking waterfront right across the street from the downtown Gaslamp Quarter. Conveniently located, the Hilton offers a variety of attractions including a beautiful bayfront pool, luxurious spa, state-of-the-art fitness center, and walking distance to shopping, dining, and harbor side sightseeing. Plus, we are taking advantage of all that the Hilton has to offer by providing a variety of networking opportunities throughout their space.
On behalf of our attendees, we have pre-negotiated preferred group rates. To receive the preferred pricing, reservations must be made through the official AACE registration and housing portal here. Our room rate cut-off date is Monday, April 18, 2022. We encourage all attendees to take advantage of the discounted pricing while it lasts.
2. Conference Program
As the world's largest clinical endocrinology meeting, we welcome multidisciplinary medical professionals at all stages in their career. Join us for a full lineup of engaging sessions, interactive symposiums, hands-on workshops, and more.
Here are a few highlights you don't want to miss:
Keynote Presentation: Self-Care for the Medical Provider During a Global Pandemic, presented by C. Nicole Swiner, MD, Physician, Professor, Speaker, and Author.
6 Disease State Plenary Talks
16 Meet the Expert Sessions
45 Interactive Symposiums
Late-Breaking Sessions
6 Board Review Sessions
3 Workshops on Successful Co-management between Primary Care and Endocrinology (SCOPE)
Posters & Abstract Presentations
View the full schedule here.
3. AACE Learning Zone
New this year will be our AACE Learning Zone – an interactive hub to connect with your peers, discuss late breaking abstracts, and test your endocrine knowledge.
Learning Zone features include:
Silent theatre technology - Bring your earphones!
Opportunity to meet with key industry partners
AACE Engagement Zone for giveaways and fun!
Oral abstract presentations
Late breaking abstract presentations
Product theatres
Endocrine Jeopardy & more!
4. Special Events
Our Annual Meeting is a time to learn, connect, and celebrate. Save the date for the following special events:
Women's Leadership Session and Reception -Thursday, May 12th at 5:00 PM -6:30 PM. The Women's Leadership Session and Reception will be a dynamic, interactive event celebrating the role of women in endocrinology and we welcome all attendees of the Annual Meeting to join. A moderated discussion will highlight a range of different job roles and career stages across a panel of AACE women, ranging from academia, fellowship program director, military healthcare, private endocrine practice, and senior AACE leadership. The panel discussion will be followed by a beautiful sunset patio reception to allow for networking and building of relationships across the AACE community. This event is open to all. We encourage all attendees to join our evening of celebration!

FACE/MACE Convocation - Saturday May 14th at 4:00 PM – 4:15 PM. We will be recognizing and applauding our new fellows as they earn their FACE/MACE designation. This is an AACE ceremony of tradition, transition, renewal, and celebration.

Awards Ceremony - Saturday May 14th at 4:15 PM – 4:30 PM. We will be recognizing and congratulating nominees in areas of clinical excellence, education and research, public health, medical ethics, technological innovations, medical advancements, community involvement, humanities, individual accomplishments and more.

Change of Leadership - Saturday May 14th at 4:30 PM – 4:45 PM. Join us as we thank our President, Dr. Felice A. Caldarella, and welcome our incoming President, Dr. S. Sethu K. Reddy!

Presidents Reception - Saturday May 14th at 7:00 PM – 9:00 PM. Held on the beautiful Promenade Plaza, this reception will be honoring AACE past and current Presidents.
5. Space is Limited
This year we will not be offering a virtual component, so attendee space is limited. Be sure to register before we sell out! Plus receive advanced discounted pricing if you register by April 18, 2022. AACE Community members also receive special pricing! If you are not a member, join today to save on your registration.