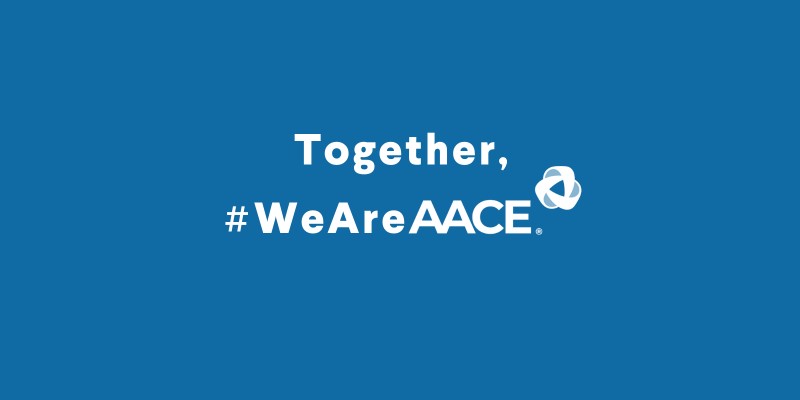 Current AACE members:
On October 20, 2020 - we launched a transformed AACE brand and community. In case you missed it, you can read the announcement from our president here.
While there are a number of changes that were revealed on October 20, below is what you need to know about our direction.
AACE is a dynamic organization that is leading the way in the endocrine community with clinical knowledge and experience.
We are proud of AACE's leadership role elevating clinical endocrinology.
We need to evolve and adapt to what is happening in our world related to changing demographics, clinical practice developments, shifting health priorities, and financial considerations for medical associations.
To meet our community members' needs, we are committed to building an inclusive community of individuals who work collectively to improve our patients' care, while treating each other and our patients with respect.
We are passionate advocates for endocrinologists—leaders of the endocrine care team—who have the knowledge, skills, and experience to bring the team along with them to adopt the latest advances in clinical practice and improve collaboration.
As health care delivery changes, endocrinologists can embrace their role as leaders and teachers on integrated care teams to improve patient outcomes and quality of care.
Opening our doors to the endocrine care community also creates an opportunity to grow our organizational footprint and generate broader awareness of our collective voice and leadership.
Our members asked and we delivered. Given the changes in the field, our membership asked for a more inclusive, modern approach to endocrinology. 
Any changes stemmed from extensive research including over a thousand endocrinologist and healthcare professional voices, who overwhelmingly supported a focus on sharing the latest and greatest in clinical practice with the endocrinology community—with endocrinologists at the center, leading the way.
Members led the Working Groups to shape and hone AACE's brand evolution, and the Board of Directors also fully support and approved the changes.
Changes will ensure AACE stays relevant and solvent as the field and faces of endocrinology are shifting/changing.
The differences you have heard about are:
An evolution to the AACE brand – the way it looks, the way we talk about ourselves, and the way we talk with and include others.
Community engagement that is more inclusive to the broader clinical endocrinology team – who are looking to endocrinologists for expertise and collaboration to strengthen their clinical knowledge and skills, and improve the care provided to the patients we all serve. Our community welcomes three main categories of participants, those being endocrinologists (as leaders), healthcare professionals, and endocrine care advocates. Our community also features different tiers of engagement benefits, with annual fees starting at $99. While benefits will be accessible to all community members, only endocrinologists will have voting privileges and the ability to serve on the board. Join our community.
Clear distinctions between former chapters and national AACE – Former AACE chapters have begun launching their new names and identities, and you will continue to see these changes occur as we work with each of them continuously over the coming months. This branding change allows us to further recognize their independence and move forward in more collaborative ways.
What has not changed is AACE's commitment to its members and to improving the practice of clinical endocrinology.
We know AACE could not be as respected and renown as it is today without the hard work of its founding members and former leaders.
We also know that AACE needs to evolve to stay relevant in changing times, and most of our members fully support this shift.
We are so excited about AACE's future and the potential for growth and partnership that comes with change, and we hope you will join us for the journey.
We are committed to transparency and ensuring the organization is sustainable. While change can be hard, it is necessary for the future of the organization. We ask for your respectful partnership in this process.
We are confident that our new brand and community approach will also allow AACE to start on the road towards revenue growth and diversification. As many members know, AACE has historically depended on industry revenue support which has decreased dramatically over the last couple of years across many professional organizations. In order to continue to provide great resources and benefits for the clinical endocrinology field - we must be innovative and adapt to the changing times. 
We are sharing updates with members regularly and have offered to speak to many of you directly about recent concerns. We hope you take us up on it and engage with us in an open forum so others can contribute and hear directly from AACE about the latest developments.
Please reach out with any questions or concerns to one of your peers on the AACE Board of Directors or by emailing 

[email protected]

.
We are committed to transparency. As we transition and evolve, we will post answers to commonly asked questions here on this page.
Check back for updates...
Questions & Answers:
1. Does AACE still plan on being the organization that represents clinical endocrinologists and their profession?
Yes, that has not changed and there are no plans to change that. We are THE essential community for endocrinologists and clinical professionals in the field of endocrinology.
2. What is the new brand?
You can read all about the new brand here - and members previously gained insight into key aspects of our brand platform including the new mission and AACE brand statement, which are:

Mission: Elevating the practice of clinical endocrinology to improve global health
Brand statement: 

We are the human face and the professional hands of endocrinology that touch tens of millions of patients a year with the latest clinical advances, to improve the health and the lives of those who live with endocrine & metabolic disorders.
As the vital hub of knowledge and experience in clinical endocrinology, we define the best paths of patient care and disease prevention, educate multi-disciplinary care teams and our patients, and set the factual record straight about endocrine diseases.
Together, we are elevating the practice of clinical endocrinology to benefit each individual patient and the health of our society.

For our members, we offer an inclusive community that shares and disseminates our collective knowledge, experience, ideas, and ideals, giving each member a voice.
For our patients, we translate the complex science of some of the world's most serious, endemic, and fast-growing diseases in order to optimize their care.
With our partners, we collaborate to accelerate the implementation of evidence-based best practices so that patients can benefit from medical advances as soon as possible.
For the public, we proactively educate and communicate about endocrine diseases and the valuable role endocrinologists play in treating them.

Together, we are the human face, and the human touch, of endocrinology.
Together, we are AACE.
3. How is AACE launching a new community membership model, given the results from the Annual Business Meeting on September 11?
In our recap of the Annual Business Meeting, we did communicate our observation in the inability to conduct our traditional governance and business discussions in a virtual environment. 
AACE Leadership still has a responsibility to progress the organization, and we realized many key changes could not wait until our next potential in person meeting in 2021.
However, the many member voices that were heard both before, during, and after the meeting were taken into consideration, and a few original changes in the desired community model are no longer occurring, including:

Endocrinologists will still be the only members with voting privileges
Endocrinologists will still be the only members that can serve on the Board of Directors

The changes that are occurring were completed via BOD policy changes. No changes were made to the bylaws, which would require a vote from the membership.
4. Was there any data or research that supported these changes?
A workgroup made up of members spent nearly 18 months studying the best approach for the future of AACE, clinical endocrinology, and patient care.
Extensive research and surveys were collected from endocrinologists that gave us data to make decisions, and some of those include…

76% of endocrinologists agreed with this statement that said: I believe that the more NPs and PAs can be educated in endocrinology, the better off my patients will be.
73% of endocrinologists agreed with this statement that said: I am open to having adjacent care providers (such as Nurse Practitioners, Physician Assistants, Dieticians, Educators, etc.) be part of the medical association(s) I belong to.

Several rounds of both qualitative and quantitative research were performed including both current AACE member endocrinologists and other health care professionals.
4. Will new community members, such as PCPs or NPs, have the same level of membership as an endocrinologist?
New community members will receive the same benefits per their desired level or tier of engagement (informed or engaged); however per our current bylaws only endocrinologists will be able to vote, serve on the Board, etc.
Check back for more questions and answers...