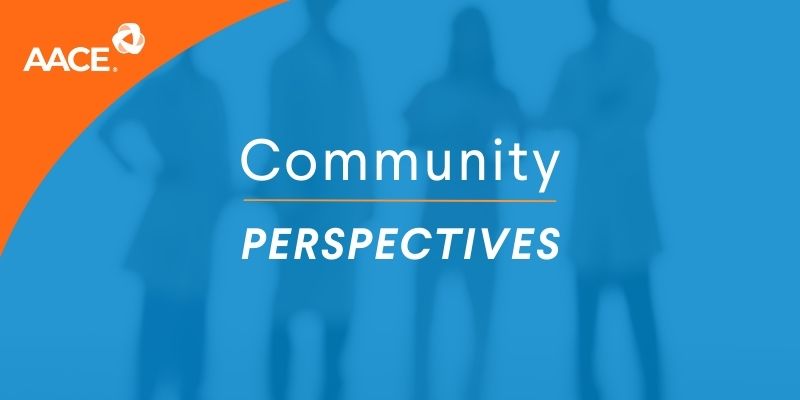 I clearly remember the excitement and disbelief when I first received the email from AACE that I had been selected to receive the Lewis E. Braverman Endocrine Fellow in Training Educational Grant to help me do an extramural rotation in Oncologic Endocrinology at Cedars-Sinai Medical Center in Los Angeles. Let me back track a little, I developed an interest in endocrine cancers during my endocrine fellowship when I did an elective rotation in neuroendocrinology at Scripps Health System. That elective rotation was only a glimpse into the rapidly evolving vast field of endocrine tumors.
Supporting my keen interest in neuroendocrinology, my endocrine fellowship Program Director at Scripps, Dr. Matthew Levine, introduced me and encouraged me to apply for the AACE Lewis E Braverman Endocrine Fellow in Training Educational Grant and was ecstatic to get the rotation at Cedars-Sinai Medical Center.
Cedars-Sinai Medical center in Los Angeles has a dedicated pituitary center that combines the expertise of endocrinologists and neurosurgeons into a holistic approach to treat pituitary tumors. Cedars-Sinai also has a highly specialized thyroid cancer program that combines traditional surgical treatment of thyroid cancer with new cutting-edge medical management including targeted therapy for aggressive tumors. My experience of working at Cedars-Sinai was exceptional both in the variety of the pathology I was exposed to and the dedication and professionalism I encountered from the physicians and staff alike. Dr. Cooper, the Endocrinology Program Director at Cedars had organized a 5-week rotation for me and had assigned me to different endocrine clinics.
I was the fellow responsible for inpatient pituitary service and worked in endocrine oncology clinics in the afternoons. Besides seeing and managing a variety of different pituitary pathologies, the pituitary service employed an early screening protocol for Diabetes Insipidus after pituitary surgery. With the help of this protocol eligible patients were treated with desmopressin before they developed overt Diabetes insipidus. With the help of my mentor, Dr. Vivien Bonert (Clinical Director, Pituitary Center), I presented a patient in pituitary radiology rounds. This is a weekly multi-disciplinary meeting with endocrinologists and neurosurgeons in which patients' pituitary scans are discussed in context of their medical history and best management strategies are discussed.
I also got the opportunity to work in the Thyroid Cancer clinic. This allowed to me to help manage complicated thyroid cancer patients and learn how as an endocrinologist we can manage thyroid cancer beyond the traditional surgical treatment. I worked in the neuroendocrine tumor clinic in collaboration with the Oncology Department and learnt the biochemical markers, imaging techniques and targeted radiopharmaceutical treatments currently used to manage neuroendocrine tumors.
I also had the opportunity to work alongside endocrine surgeons including neurosurgeon for pituitary tumors, Adrenal and ENT surgeons. I learned the process of adrenal vein sampling and how to interpret its results. In the ENT clinic, I got to understand the surgeon's point of view when patients are referred for thyroid or parathyroid surgery, which imaging techniques are preferred and why, and the contraindications to surgery. I saw how the Thyroid endocrinologists and ENT surgeons collaborated to offer a thyroid cancer surveillance program for management of thyroid microcarcinomas. These patients have the option of enrolling in surveillance program in which they are followed and monitored with serial thyroid ultrasounds instead of undergoing surgery for microcarcinomas.
In addition to patient care, I attended didactics including endocrine core conferences, and tumor board meetings for thyroid cancer, pituitary, adrenal and neuroendocrine tumors. With the help of Dr. Wendy Sacks, (Co-Director, Thyroid Cancer Program) I presented a complicated metastatic thyroid cancer patient in thyroid tumor board meeting, which was a 45-minute-long rich discussion on the management options for this patient.
Overall, this was an exhilarating and gratifying learning experience. Apart from learning from the physician leaders at Cedars-Sinai, I also learned a lot from the patients and staff. In Los Angeles, diversity extends beyond geography to include one of the most ethnically and culturally diverse populations of any large city. I experienced how patient-centered and culturally sensitive endocrine care can lead to better health outcomes and patient satisfaction. I am beyond grateful to AACE for giving me this opportunity and the learning experience of a lifetime.
The Dr. Lewis E Braverman Endocrine Fellow in Training Educational Grant is a one-of-a-kind grant program offered to fellows in the United States to take part in unique clinical experiences worldwide.
Learn More