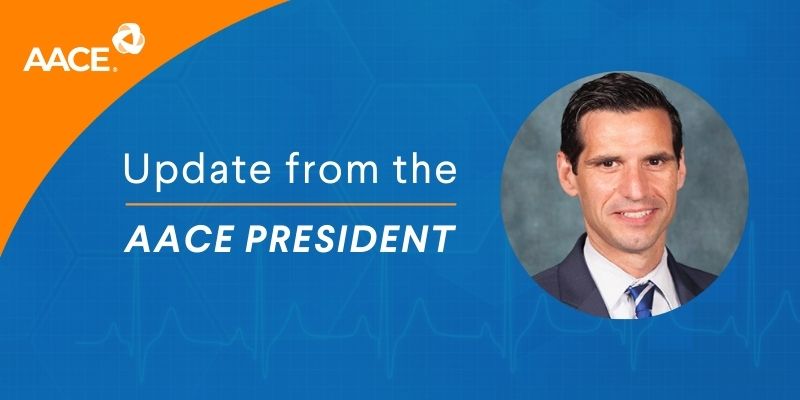 January 25, 2022
Greetings AACE Community,
As I shared with you this past fall, our AACE leadership spent the last year developing our 2022-2025 strategic plan and committed to three key areas – endocrine care teams, patient and public awareness, and worldwide engagement. Our teams have been hard at work to implement our goals since rolling out our strategic plan in 2021, and today I'd like to share a few updates in one of our three focus areas – patient awareness.
First, we are excited to announce that we will be further expanding and updating our patient and public resources by featuring new "AACE Patient Journeys" that aim to help improve the health and lives of those who live with endocrine and metabolic disorders. For patients – when it comes to learning that you or a loved one has an endocrine condition, many emotions come to mind. We understand how challenging it can be – from wondering where to start, what types of treatment options are available, to determining which treatment is best for your personal condition. Many patients often look to the internet for answers. While the internet is overflowing with information, it is difficult for patients to know what is valid. And, often when they find content from a reputable source, it is too technical or scientifically focused, making it overwhelming to understand. Patients need information that takes their experiences, state of mind, informational needs, and future expectations into account, so they know what to expect and can best manage their health.
That's why as the leaders in clinical endocrinology, we at AACE want patients and caregivers to know they can look to us for easily understandable resources and guidance regarding various aspects of endocrine diseases and conditions. As the premier source for evidence-based information on endocrine care and clinical endocrinology, we are beginning our efforts to develop a series of patient journeys created from the patient perspective that align with our clinical practice guidelines. Our patient journeys series will translate the complex science of some of the world's most serious, endemic, and fast-growing endocrine diseases into an accessible roadmap about what to expect over the course of diagnosis and treatment.
AACE Patient Journeys will be developed in collaboration with thought-leading clinicians, patient care, and support organizations, with the support of industry representatives – all of which are lending their vast expertise to this effort. Some prior patient guides look only at the treatment plan or just encounters with doctors on the focus of moving a patient through a health system or onto a therapeutic course of action. AACE Patient Journeys will combine the best thinking in quality optimal care with the patient experience to provide the most accurate and accessible roadmap for patients living with endocrine conditions. From pre-diagnosis warning signs through living with an endocrine condition, AACE Patient Journeys will be a patient's constant companion providing information, resources, and interactive tools to navigate their condition, treatment plan, and remission goals. We are excited to start our development work in this area and will share more with you in the future as this content becomes available.
In addition to our efforts in updating patient content, I'd also like to alert you to important news relative to our years long commitment to better patient care in diabetes. The National Clinical Care Commission (NCCC) has just released their recommendations on diabetes care. We at AACE were instrumental as the leader in obtaining Congressional approval for this report and the formation of the Commission. We have also been involved in the report's review and provided comments to ensure that the recommendations would provide its strong support for better care for all patients with diabetes – a goal of our organization.
Former AACE President Jonathan Leffert, MD, FACP, FACE, ECNU, was involved in the efforts and says, "The NCCC was conceived in an AACE Legislative Committee meeting in 2010 to provide guidance to the Federal Government on diabetes care. AACE along with a coalition of other endocrine related organizations embarked on a lobbying effort to pass the legislation that was necessary to establish the NCCC. As a result of our dedication and persistence, the law was enacted in 2017, and today we are so proud to finally see the NCCC's report recommendations that will most certainly improve the lives of all people with diabetes."
View the National Clinical Care Commission Report here.
These two updates are great examples of the many ways we have been working to move our strategic plan forward. As your trusted go-to resource for accurate information, we at AACE aim to provide what patients need to proactively manage their health and make informed decisions throughout their entire journey. Stay tuned as we roll out our multi-year commitment to creating AACE Patient Journeys and furthering our patient and public awareness efforts. In the meantime, we welcome patients, caregivers, and health care professionals to visit our patient portal at www.aace.com for more information on common endocrine conditions.
I will work to provide future updates for you in our other strategic goal areas. Together, let us advance our mission of elevating clinical endocrinology to improve global health. Together, we are AACE.
Thank you,
Felice A. Caldarella, MD, MBA, FACP, CDCES, FACE
AACE President