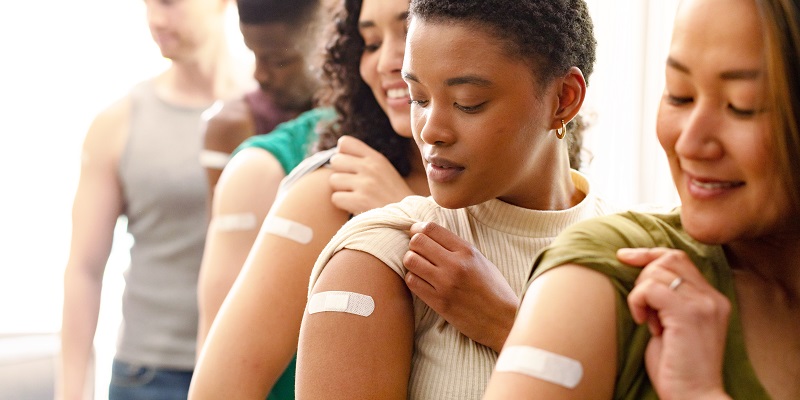 May 2022
Background
AACE has been named one of seven subspecialty societies to participate in a Centers for Disease Control and Prevention (CDC)-funded grant project led and coordinated through the Council for Medical Specialty Societies to help increase COVID-19, influenza, and routine vaccinations in high-risk adults with chronic medical conditions.
During the Covid-19 pandemic as in past influenza seasons, morbidity and mortality were higher in persons with chronic medical conditions. Vaccination reduces hospitalizations and deaths related to vaccine-preventable diseases. Vaccination of patients and healthcare personnel reduces hospitalizations and deaths related to vaccine preventable diseases. However, improvements in adult vaccination rates are needed. Together, this project has two long-term project outcomes:  Increase routine vaccination coverage among high-risk adults nationally and reduce morbidity and mortality from vaccine-preventable diseases among adults with chronic medical conditions.
The purpose of this Project is to ensure that all adults, especially high-risk adults with co-morbidities, receive up-to-date vaccinations for influenza, COVID-19, and all applicable vaccines. CMSS serves as the lead organization for this project and works with seven collaborating subspecialty members and partnering healthcare systems to incorporate the Standards for Immunization Practice (SAIP) (https://www.cdc.gov/vaccines/hcp/adults/for-practice/standards/index.html) into clinical care and to drive adult immunization through education, dissemination, and quality improvement initiatives.
Collaborating Medical Specialty Societies:
American Association of Clinical Endocrinology
American College of Cardiology
American College of Occupational and Environmental Medicine
American Geriatrics Society
American Society of Clinical Oncology
American Society of Nephrology
American Thoracic Society
Goals and Objectives for AACE's Work
To improve vaccination rates in patients living with diabetes, AACE will be:
Developing education resources to support the improvement of immunization rates in patients living with diabetes patients including dedicated education programs at AACE national conferences, toolkits, and other resources.
Developing and/or updating clinical practice guidelines and consensus statements to address SAIP.
Working with 7-10 health systems that represent broad geographic, racial/ethnic, rural/urban, and economic diversity in patient population to facilitate implementation of SAIP into their routine workflows.
Integrating SAIP-related content into multiple communication and learning opportunities, such as, web-based content for health care professionals, patient education materials, and new SAIP-related content.
AACE Advisory Committee
AACE has created an advisory committee to help oversee the project and guide AACE's development of education and communication materials. The advisory committee consists of:
David C. Lieb, MD, FACP, FACE
Professor of Medicine, Eastern Virginia Medical School
Ricardo Correa, MD, EdD
Fellowship Director, Endocrinology, Diabetes and Metabolism and Diversity Director, Graduated Medical Education, University of Arizona College of Medicine- Phoenix
Geetha Gopalakrishnan, MD, FACE
Director of Endocrinology, Warren Alpert Medical School of Brown University
Kenneth Izuora, MD, MBA, FACE
Chief, Division of Endocrinology and Program Director, Endocrinology Fellowship Training Program, University of Nevada Las Vegas
Elias Siraj, MD, FACP, FACE
Professor of Medicine, Eastern Virginia Medical School
Sandra L. Weber, MD, FACP, FACE
Chief, Division of Endocrinology, Prisma Health System University of South Carolina School of Medicine - Greenville
Learn More