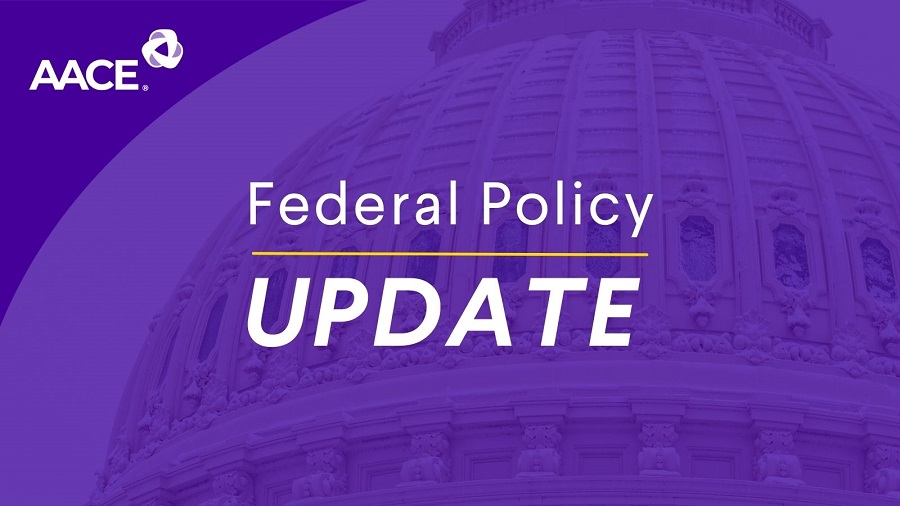 January 2023
By: Julius W. Hobson, Jr.
Omnibus:
House and Senate budget negotiators reached agreement on a $1.71 trillion full fiscal year spending bill. Congress subsequently passed the bill and the President has signed the Consolidated Appropriations Act, 2023 [P.L. 117-328] on December 29, 2022. Below are key items in the new law.
Medicare Physician Fee Schedule Fix: The omnibus provides a 2.5 percent pay bump for 2023 and 1.25 percent for 2024 for providers paid through the Medicare Physician Fee Schedule to partially offset cuts finalized by the Centers for Medicare & Medicaid Services. CMS said the 4.4 percent cut is necessary to keep the fee schedule budget neutral, as required by law after it finalized pay increases for primary care and other specialties a few years ago.
This marks the third year in a row Congress has added money to the fee schedule to avoid cuts after intense lobbying from physicians. The omnibus will also waive 4 percent pay-as-you-go cuts to Medicare triggered by a COVID-19 relief package (P. L. 117-2) Democrats passed last year.
Lab Cuts Postponed: The bill would revise the phase-in of lab pay cuts tied to the Protecting Access to Medicare Act. The Protecting Access to Medicare Act directed CMS to base Medicare pay for lab tests on commercial-payer rates. This has been a concern, especially as few hospital labs, which are typically paid more than others, were initially required to report their pay data.  Last December Congress delayed reporting requirements, and the next data reporting period was scheduled for Jan. 1, 2023 through March 31, 2023. The Omnibus pushes that reporting period back a year as well as implementing a "revised phase-in" of the cuts by pushing those back a year.
Telehealth: The bill extends pandemic-era policies expanding Medicare coverage of telehealth for another two years, giving Congress more time to gather data on effectiveness and costs as they consider making coverage permanent. While most coverage expansions expire 151 days after the end of the public health emergency, lawmakers and the telehealth industry have been pushing for a longer extension.
Medicaid & CHIP: The omnibus extends funding for CHIP for two years through fiscal year 2029, requires children to be provided with 12 months of continuous coverage in Medicaid and CHIP effective January 1, 2024, and makes permanent a state option to allow states to continue to provide 12 months of continuous coverage during the postpartum period in Medicaid or CHIP. Strengthens requirements in Medicaid for health plans and states to publish searchable and regularly updated directories of the health care providers in their networks, including providers of mental health and substance use disorder services.
The bill provides funding and requirements for state Medicaid programs to support the transition from the enhanced Medicaid funding and continuous coverage requirements of the Families First Coronavirus Response Act (FFCRA). It would sunset FFCRA's continuous coverage requirement as of April 1, 2023 and allow for states to begin the process of initiating redeterminations of eligibility over a period of at least twelve months. States would be able to receive enhanced Medicaid funding from April 1 through December 31, 2023, subject to meeting certain conditions such as updating beneficiaries' contact information and using more than one modality to contact beneficiaries in the event of returned mail. It also establishes public reporting requirements for all states during this temporary redetermination period and provides additional enforcement mechanisms for the Centers for Medicare & Medicaid Services during this period.
GME: Addresses health workforce issues by expanding the Medicare Graduate Medical Education program that helps train physicians in residency (for which half of new funding will go towards training psychiatrists) and supports nursing school programs.
Mental Health: The bill includes a number of provisions to address the nation's mental health crisis by strengthening, expanding, and establishing more than 30 programs that collectively support mental health care and substance use disorder prevention, care, treatment, peer support, and recovery support services. It reauthorizes the National Suicide Prevention Lifeline Program, the Community Mental Health Service Block Grants, and the renamed Substance Use and Prevention, Treatment, and Recovery Block Grants. The bill also includes grant funding to support the maternal mental programs, establishes a maternal mental health hotline and a related task force. It extends mental health parity to state and local government workers and bolsters the mental health and substance use disorder workforce through increased capacity and training. It also provides Medicare Part B coverage of mental health counselor and therapist services.  
Medication Assisted Treatment (MAT) & Medication Access and Training Expansion (MATE): The omnibus expands patient access to opioid addiction treatment by making it easier for health care providers to dispense buprenorphine for opioid use disorder maintenance or detoxification treatment. The bill also requires health care providers to complete a training requirement on identifying and treating patients with substance use disorders.
Rural Hospitals: The legislation extend both the Low-Volume Hospital program and Medicare Dependent Hospital Program through 2025. The programs were scheduled to expire after December 23, 2022. The Medicare Dependent Hospital program boosts payments to hospitals with a high share of Medicare patients. The Low-Volume Hospital program adjusts pay for hospitals that in turn have a small number of Medicare patients. The programs have been pivotal to help shore up the financial stability of rural hospitals, which have faced a lingering trend of closures in recent years.
HHS OIG: Average Sales Price Reports
The Department of Health and Human Services Office of Inspector General released two reports concerning the average sales price. Both are below:
Manufacturers May Need Additional Guidance To Ensure Consistent Average Sales Price Calculations

(OEI-BL-21-00330)

 

We compared average sales prices (ASPs) for the 30 highest-expenditure drugs in Medicare Part B to different benchmark prices for prescription drugs in the second quarter of 2021. Comparisons of ASPs to other benchmark prices provided little insight into potential inaccuracies. However, through manufacturer surveys, OIG was able to identify a small number of inconsistencies in manufacturer calculations of ASPs, such as in the treatment of TRICARE-related drug sales for military members or whether certain fees paid to third parties meet the criteria for being considered a "bona fide service fee" to be excluded from ASP. We also noted several areas where manufacturers would like additional guidance from the Centers for Medicare & Medicaid Services (CMS), including the treatment of sales and rebates offered through value-based purchasing arrangements. 

Read the Full Report

CMS Should Bolster Its Oversight of Manufacturer-Submitted Average Sales Price Data To Ensure Accurate Part B Drug Payments

 

(OEI-03-21-00390)

 While CMS has some oversight procedures in place to review ASP data (e.g., system edits in the ASP data collection system and CMS's internal reviews of manufacturer data), gaps exist in its oversight that allowed inaccurate data to impact Medicare Part B payment amounts. CMS's quality assurance procedures do not include checks to ensure the accuracy of manual processes it employs to analyze the data used to calculate Part B payment amounts. CMS also does not leverage its ASP data collection system to produce analytical reports that would monitor ASP data quality and maximize its oversight capabilities. 

Read the Full Report
CMS: Coverage and Payment of Interprofessional Consultation in Medicaid and the Children's Health Insurance Program (CHIP)
The Centers for Medicare and Medicaid Services (CMS) released a State Health Official (SHO) letter that provides guidance to states on policy for Medicaid and the Children's Health Insurance Program (CHIP) to allow one provider to discuss a Medicaid or CHIP beneficiary's case with a specialist, with or without the beneficiary present, and to pay the specialist for their services directly. The current policy only allows payment in this circumstance if the provider who is seeking the consultation is paid for the consulted provider's services and then pays the consulted provider directly. This change more directly "links" routine care with specialty care, allowing more people to benefit from practitioners with specialized knowledge. Full letter: https://www.medicaid.gov/federal-policy-guidance/downloads/sho23001.pdf.
Telehealth Indicator for Doctors and Clinicians on Care Compare
The Centers for Medicare & Medicaid Services (CMS) added a new telehealth indicator on clinician profile pages on Medicare Care Compare and in the Provider Data Catalog (PDC). The new indicator helps beneficiaries and caregivers more easily find clinicians who provide telehealth services.
Telemedicine services expanded in response to the COVID-19 public health emergency to improve patients' access to care. Last year, CMS reported a 30-fold increase in telehealth services, with more than half of Medicare beneficiaries utilizing them between March 1, 2020 and February 28, 2021. The telehealth indicator is the latest example of CMS's efforts to ensure Care Compare provides beneficiaries and caregivers meaningful information about services they value as they search for clinicians.
For more information, access the Telehealth Indicator on Medicare Care Compare fact sheet. If you have any questions about the telehealth indicator or public reporting for doctors and clinicians on Care Compare, contact the QPP Service Center at 1-866-288-8292 (Monday-Friday 8 a.m. - 8 p.m. ET) or by e-mail at [email protected]. To receive assistance more quickly, consider calling during non-peak hours (before 10 a.m. and after 2 p.m. ET). Customers who are hard of hearing can dial 711 to be connected to a TRS Communications Assistant.
Preventive Health Services Task Force Nominations
The Agency for Healthcare Research and Quality (AHRQ) invites nominations of individuals qualified to serve as members of the U.S. Preventive Services Task Force (USPSTF).
DATES: Nominations must be received electronically by March 15th of a given year to be considered for appointment to begin in January of the following year.
ADDRESSES: Submit your responses electronically via: https://uspstfnominations.ahrq.gov/register
The link to the Federal Register notice: https://www.govinfo.gov/content/pkg/FR-2022-12-30/pdf/2022-28469.pdf