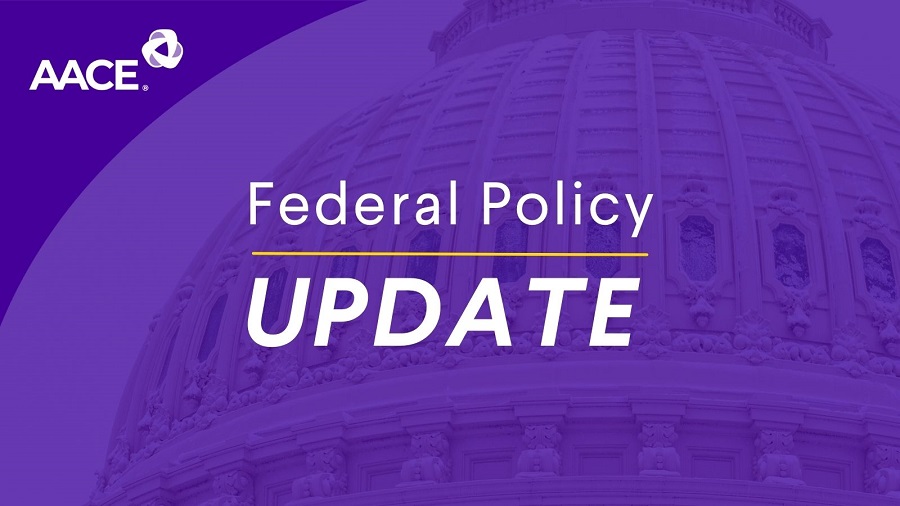 February 2023
By: Julius W. Hobson, Jr.
Public Health Emergency Termination
On February 1, 2023, the U.S. House of Representatives passed H. J. Res. 7, by a vote of 229-197 (7 not voting). This bill would terminate the COVID-19 National Emergency and the Public Health Emergency (PHE) immediately. Prior to House passage, the Biden Administration's Office of Management and Budget (OMB) released a Statement of Administration Policy (SAP) in opposition to the bill. The SAP stated both emergencies are scheduled to expire on March 1 and April 11, respectively. The SAP further stated the "Administration's plan is to extend the emergency declarations to May 11, and then end both emergencies on that date." The intent is to align the wind-down with the Administration's previous commitments to give at least 60 days' notice prior to termination of the PHE.
Termination of the health emergencies will result in significant changes:
Many patients will have to pay for COVID-19 vaccines, tests and treatments.  People without health insurance will have to pay out of pocket, while those with private plans could see more costs depending on the terms of their insurance.

Medicare, Medicaid and Children's Health Insurance Program beneficiaries could also face more cost-sharing for tests and some COVID antivirals, though vaccines will remain free.

Employers will no longer be able to offer telehealth access as a premium, tax-free benefit separate from other health plans.

Eased rules for prescribing controlled substances without an in-person physician's visit could also end unless the Drug Enforcement Administration (DEA) moves to extend then.  That could affect people seeking mental health care, transgender care, treatment for opioid use disorder, and possibly for severe coughs.  DEA is expected to release proposed rules in the near future.

Medicare coverage requirements waived during the emergency will resume.

The Medicare prescription drug benefit will no longer allow patients to get extended supplies of many drugs.

Medicaid and CHIP coverage will change in some ways, as state and federal agencies made changes to their programs because of the emergency.

Hospitals will lose the 20 percent increase in Medicare payments they have received for treating COVID patients.
Here is a link to a Congressional Research Service which describes some of the effects of terminating the medical emergencies: https://crsreports.congress.gov/product/pdf/IN/IN12088. 
Food and Drug Administration
Since March 2020, the Food and Drug Administration (FDA) published more than 70 COVID-19-related guidances. Many these guidances established temporary policies that could be reversed when the PHE ends on May 11. The guidances cover everything from drug and vaccine development to medical device authorizations to food labeling.
A number of those guidances are in effect for the duration of the PHE, but the agency could update some of them to say they're in effect for the duration of the so-called 564 declaration, which gives FDA authority to issue emergency use authorizations during a public health emergency. A 564 EUA declaration is separate from a PHE declaration, and, unlike the PHE, has no expiration date. HHS has to issue advance notice in the Federal Register that the 564 declaration will be terminated.
FDA on Jan. 31 updated its COVID-19-Related Guidance Documents webpage to make clear that it plans to issue a notice detailing how the end of the COVID-19 PHE will affect the agency's PHE-related guidances. The update will identify those guidances planned for temporary extension or let expiration.
Here is a list of some of the key guidances:
Emergency Use Authorization for Vaccines to Prevent COVID-19. Explains what data and information are needed to support COVID-19 vaccine EUAs, including chemistry, manufacturing and controls information, as well as nonclinical and clinical data and information.

COVID-19: Developing Drugs and Biological Products for Treatment or Prevention. Recommends drug and biologic sponsors monitor genomic databases for new variants and evaluate whether there are impacts on product performance.

Development and Licensure of Vaccines to Prevent COVID-19. Makes clear a COVID-19 vaccine should demonstrate at least 50% efficacy in placebo-controlled trials, meaning it will prevent disease or decrease severity in at least half of the people vaccinated. The guidance also urges vaccine sponsors to include diverse populations in all stages of COVID-19 vaccine clinical trials.

Conduct of Clinical Trials of Medical Products During the COVID-19 Public Health Emergency. Explains how sponsors can assure the safety of trial participants, maintain compliance with good clinical practice and minimize risks to trial integrity for the duration of the PHE.

COVID-19: Master Protocols Evaluating Drugs and Biological Products for Treatment or Prevention. Explains how product sponsors can use master protocols to test drugs and biologics intended to treat or prevent COVID-19.

Enforcement Policy for Face Masks and Respirators During the Coronavirus Disease (COVID-19) Public Health Emergency. Clarifies the regulatory landscape of face masks and respirators in an attempt to expand the availability of general-use face masks for use by the public, and of filtering facepiece respirators for use by health care professionals in health care settings.

Enforcement Policy for Gowns, Other Apparel, and Gloves During the Coronavirus Disease (COVID-19) Public Health Emergency. Clarifies the regulatory landscape of gowns, other apparel and gloves, and aims to expand the availability of surgical apparel for health care professionals, including gowns, hoods, togas, and surgeon's and patient examination gloves.

Temporary Policy for Compounding of Certain Drugs for Hospitalized Patients by Outsourcing Facilities During the COVID-19 Public Health Emergency. Allows outsourcing facilities to compound drugs needed to treat hospitalized COVID-19 patients, even if the medication is not on the agency's bulk shortage list.

Enforcement Policy for Non-Invasive Remote Monitoring Devices Used to Support Patient Monitoring During the Coronavirus Disease-2019 (COVID-19) Public Health Emergency. Says that, during the public health emergency, FDA will allow limited modifications to indications, claims or functionality of certain non-invasive remote monitoring devices.

Temporary Policy on Prescription Drug Marketing Act Requirements for Distribution of Drug Samples During the COVID-19 Public Health Emergency. Allows manufacturers to mail prescription drug samples directly to patients' homes, upon request from a health care provider, to facilitate access to medications for patients who typically obtain samples from their doctors.
340B Discount Drug Program Judicial Ruling
On January 30, 2023, the U.S. Court of Appeals for the Third Circuit ruled that the Biden Administration cannot require pharmaceutical manufacturers to provide 340B discounted products to an unlimited number of contract pharmacies.  This ruling was in the drug companies' favor.  Also, there are two other appeals courts considering similar cases.
The court ruled the Department of Health and Human Services (HHS) did not have the legal authority to require discount across all 340B hospitals partnered community and specialty pharmacies.  The court enjoined HHS from enforcing its Advisory Opinion and the subsequent violation letters sent to several drug companies that threatened fines for restricting sales to the contract pharmacies.  To date over 20 drug manufacturers have notified HHS that they will not comply with the advisory opinion. https://www2.ca3.uscourts.gov/opinarch/213167p.pdf
Medicare Advantage
GAO Medicare Advantage Report
The U.S. General Accountability Office (GAO) released a report entitled Medicare Advantage: Plans Generally Offered Some Supplemental Benefits, but CMS Has Limited Data on Utilization. Under Medicare Advantage (MA), a private plan option in Medicare, plans can offer supplemental benefits not covered under Original Medicare. MA plans are required to submit detailed, service-level utilization data to the Centers for Medicare and Medicaid Services (CMS). These data—known as encounter data—must include supplemental benefits to the extent required by CMS. However, GAO found that information submitted by plans on enrollees' use of supplemental benefits is limited for two reasons:
CMS guidance on encounter data does not specifically mention the submission of such data for supplemental benefits, although it says plans must submit encounter data for each benefit provided to an enrollee.  CMS officials told GAO that the inclusion of supplemental benefits in this requirement is clear.  However, officials from three MA organizations told GAO they are not required to submit encounter data for some or all supplemental benefits and therefore do not do so.

Officials from CMS and two MA organizations told GAO there are challenges collecting and submitting encounter data for certain supplemental benefits.
Medicare Advantage Final Rule
The federal government will audit Medicare Advantage insurers under a new final rule that will scrutinize the diagnosis codes used for patients, likely resulting in plans having to pay back billions of dollars to the Medicare program and patients. Medicare projects to get back $479 million for audits of 2018 plans, and the government expects to recoup $4.7 billion for plan years 2023 to 2032. (Stat News) https://www.cms.gov/files/document/2024-advance-notice.pdf
Federal Trade Commission Enforcement Action Against GoodRx
On February 1, 2023, the Federal Trade Commission (FTC) took enforcement action for the first time under its Health Breach Notification Rule against the telehealth and prescription drug discount provider GoodRx Holdings, Inc., for failing to notify consumers and others of its unauthorized disclosures of consumers' personal health information to Facebook, Google, Criteo, and other third parties like Branch and Twilio. Specifically, the FTC said GoodRx:
Shared personal health information with Facebook, Google, Criteo, and others.

Used personal health information to target its users with Ads.

Failed to limit third-party use of personal health information.

Misrepresented its HIPAA compliance.

Failed to implement policies to protect personal health information.
The proposed order assesses GoodRx a $1.5 million penalty for violating the rule and also prohibits GoodRx from engaging the deceptive practices. To remedy the FTC's allegations, other provisions of the proposed order against GoodRx also:
Prohibit the sharing of health data for ads.

Require user consent for any other sharing.

Require company to seek deletion of data.

Limit retention of data.

Implement mandated privacy program.
No Surprise Billing Federal Court Ruling
A U.S. District Court ruling invalidated the Federal government's rules for settling payment disputes for many out-of-network bills.  The decision could mean more arbitration cases and higher premiums for patients, employers that cover health benefits claim. The ruling was authored by Judge Jeremy D. Kernodle, US District Court for the Eastern District of Texas.
The decision invalidated the Biden Administration's rule establishing the process for setting payment disputes under the No Surprises Act, enacted as part of the Consolidated Appropriations Act, 2021. The law bars physicians and other health-care providers from billing patients more than they would owe for in-network services in emergency situations and for procedures at in-network facilities.  Below is a link to the court opinion: MEMORANDUM OPINION AND ORDER. The Court GRANTS Plaintiffs TMA, Dr. Adam Corley, and Tyler Regional Hospital's motion for summary judgment 41 , GRANTS Plaintiffs LifeNet and East Texas Air One's motion for summary judgment 42 , DENIES Defendants' cross-motions for summary judgment 63 , 96 , and ORDERS provisions of the Final Rule are VACATED and REMANDED for further consideration. Signed by District Judge Jeremy D. Kernodle on 2/6/2023. (wea, ) (justia.com)
Medicare-Funded Residency Slots Awarded
On January 9, 2023, the Centers for Medicare & Medicaid Services (CMS) awarded the first 200 of 1,000 Medicare-funded physician residency slots to enhance the health care workforce and fund additional positions in hospitals serving underserved communities. Approximately three-quarters of the new positions will be for primary care and mental health specialties.
The Fiscal Year (FY) 2022 Inpatient Prospective Payment System (IPPS) final rule established policies to implement 1,000 new Medicare-funded physician residency slots to qualifying hospitals authorized by the Consolidated Appropriations Act, 2021, phasing in 200 slots per year over five years. In allocating these new residency slots, CMS prioritized hospitals with training programs in geographic areas demonstrating the greatest need for additional providers, as determined by Health Professional Shortage Areas. The first round of 200 residency positions awarded today are to 100 teaching hospitals across 30 states, the District of Columbia, and Puerto Rico, and they will be effective July 1, 2023.
The first round of 200 residency positions awarded are to 100 teaching hospitals across 30 states, the District of Columbia, and Puerto Rico, and they will be effective July 1, 2023. The application period for the second round of 200 residency positions will open in January 2023 and close on March 31, 2023.
HHS Announces Key Dates for the First Year of the Medicare Drug Price Negotiation Program
On January 11, 2023, the U.S. Department of Health and Human Services (HHS) announced key dates for the first year of the Medicare Drug Price Negotiation Program under the Inflation Reduction Act, which will lower drug costs for millions of Americans. For the first time in history, because of the Inflation Reduction Act, Medicare will have the ability to negotiate prescription drug prices. That process begins in 2023, and the first negotiated prices will go into effect in 2026.
CMS also released a memo (link below) with more details on the implementation steps for the Medicare Drug Price Negotiation Program, laying out the opportunities for engagement and public feedback throughout the implementation process. The memo details multiple comment opportunities for members of the public, people with Medicare and consumer advocates, pharmaceutical manufacturers, Medicare Advantage and Part D plans, health care providers and pharmacies, and other interested parties.
Key dates for implementation include:
By September 1, 2023, CMS will publish the first 10 Medicare Part D drugs selected for the Medicare Drug Price Negotiation Program.

The negotiated maximum fair prices for these drugs will be announced by September 1, 2024 and prices will be in effect starting January 1, 2026.

In future years, CMS will select for negotiation 15 more Part D drugs for 2027, 15 more Part B or Part D drugs for 2028, and 20 more Part B or Part D drugs for each year after that, as outlined in the Inflation Reduction Act.
HHS Memo: https://www.cms.gov/files/document/medicare-drug-price-negotiation-program-next-steps-implementation-2026.pdf