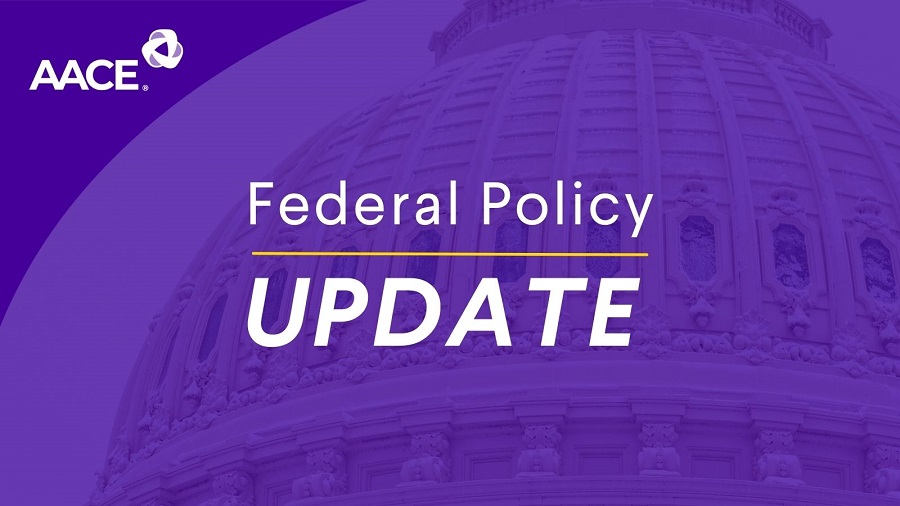 December 2021 - January 2022
By: Julius W. Hobson, Jr.
Physician Medicare Payment Cuts
Sequestration is the automatic across-the-board of certain federal government spending. It is generally by a uniform percentage. Physician Medicare payments were scheduled for a 2 percent reduction effective January 1, 2022. However, in December Congress enacted the "Protecting Medicare and American Farmers from Sequestration Cuts Act" [Public Law 117-71]. The new law prevents any payment adjustment through March 31st. It then authorizes a one percent reduction April 1 to June 30, 2022. A further two percent reduction is scheduled for July 1, 2022.
Keeping the Federal Government Open
On December 3, 2021, President Biden signed the "Further Extending Government Funding Act", which passed the House (221-212) and the Senate (69-28). Public Law 117-70 funds the Federal government through February 18, 2022. This means an early item of business for the 117th Congress, 2nd Session is to work on the eleven (11) appropriations to fund the Federal government for the remainder of Fiscal Year 2022. It is likely Congress will again consolidate all the bills into one large appropriations bill. The big question is whether Congress can achieve an agreement on full year appropriations or simply pass another continuing resolution.
On December 16, 2021, the President signed a joint resolution which increased the debt limit by $2.5 trillion. It is anticipated the Congress won't have to address the debt limit again until early 2023.
No Surprise Billing Implementation
Please note the No Surprise Billing law implementation became effective January 1st. The No Surprises Act (NSA) establishes new federal protections against surprise medical bills that take effect in 2022. The Act prohibits physicians, hospitals, and other covered providers from billing patients more than in-network cost sharing amount for surprise medical bills. Several lawsuits have been filed concerning Federal regulations implementing the law.
Build Back Better
By now you know Senator Joe Manchin [D-WV] announced on FOX News that he would not support the Build Back Better legislation which is key to President Biden's economic agenda. The legislation is not terminal yet. With a 50-50 Senate, Manchin's concerns will have to be addressed if Democrats hope to be successful.
Some of the key health provisions included in the House-passed bill text are:
$165 billion on healthcare spending, which includes the Affordable Care Act and Medicare hearing coverage.

$165 billion to expand affordable home care.

Authorizing the Secretary of Health and Human Services to negotiate some prescription drug prices.

Increased fund for health professions training and residencies.
In order to pass something, Democrats will have to pair back or drop a number of provisions. Some of those will include health matters. However, at this time it is not clear what health provisions will be affected.
Economic Situation
While unemployment continues to decline (4.2% in November), other economic news has not been as good.  In October, inflation was 6.2% on an annual basis, the highest since November 1990. The prices for energy, food and shelter rose significantly. Medical services rose at an annual rate of 1.7%.  Of particular concern is the dramatic rise in energy (oil and gas) prices. The Producer Price Index increased 0.8% in November, a 9.6% annual rate. The inflation situation is expected to continue for at least several months into 2022.
The Federal Reserve's has announced it will accelerate winding down of prior monetary stimulation policy due to the COVID-19 pandemic. The Fed also expects to increase interest rates at least three times in 2022.
COVID-19 Pandemic News
You will recall the Biden Administration, through the Occupational Safety and Health Administration (OHSA) issued regulations mandating vaccines for businesses with 100 or more employees, as well as a testing mandate. Several businesses immediately filed suit in Federal court to overturn the regulations. The mandate was put on hold by Federal courts in parts of the country.
Meanwhile, the Biden Administration, through the Centers for Medicare and Medicaid Services (CMS), published a rule mandating health care staff vaccinations. This rule was also challenged in Federal court and plaintiffs succeeded in getting injunctions against the rule. On January 7, 2022, the U.S. Supreme Court is scheduled to hear oral arguments concerning both mandates. A ruling is generally expected within weeks.
2022 Mid Term Elections
This year all 435 Members of the U.S. House of Representatives and one-third of the Senate seats will be on the ballot in November. With redistricting as required by the Census, it is expected that Democrats will likely lose their House majority. To date, over 20 incumbent House Democrats have announced their retirement. The Senate is not as clear. Current generic ballot polling shows Republicans well ahead of Democrats. In addition, President Biden's poll numbers are upside down. If history is a guide, unless the President's numbers improve, Republicans could be looking forward to a very good election result. All of this is a prelude to the 2024 presidential election. Stay tuned.
From the AMA: Updated 2022 Specialty Impact Analysis and Medicare Conversion Factor
View the American Medical Association's updated specialty impact analysis which factors in the Protecting Medicare & American Farmers from Sequester Cuts Act, which avoided a 4% statutory cut from the PAYGO provisions, extended the moratorium on the 2% Medicare payment sequester, and mitigated the 3.75% Medicare physician payment cut. Note, the analysis is focused on the impact at the beginning of the year. 
In addition, CMS has now released the new 2022 PFS conversion factor of $34.6062 and Anesthesia CF of $21.5623. The updated CFs were included in newly updated spreadsheets on cms.gov: