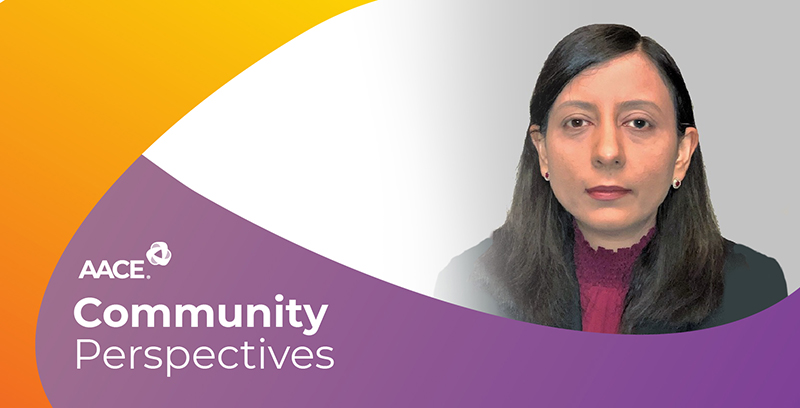 June, 2021
By Monica Agarwal MD, MEHP, FACE Diplomate of the American Board of Obesity Medicine, Chair, AACE Disease State Network Obesity and Nutrition
The FDA approved injectable 

semaglutide

 for adults living with obesity
Obesity is highly prevalent in the United States, and CDC estimates the rate of obesity in Americans aged 20 and over is 42.5%. Obesity is a chronic relapsing, progressive disease, and the approval of semaglutide can be revolutionary for obesity. Losing and maintaining weight loss can be challenging due to counter-regularly mechanisms promoting weight regain by increasing hunger and decreasing energy expenditure. An average weight loss of 10 to 15% can effectively reduce obesity-related complications like hypertension, sleep apnea, and type 2 diabetes. Recent Semaglutide Treatment Effect in People with Obesity (STEP) Trials data showed the efficacy of semaglutide in overweight and people with obesity with or without diabetes. The weight loss with semaglutide 2.4 mg weekly is impressive, with an average weight loss of 15% among participants at 68 weeks in STEP trials. Over half of the people lost 15% or more, and a third lost 20% or more of their body weight over 68 weeks among overweight and obesity without diabetes in the STEP 1 trial. About 45% achieved 10% or more weight loss among patients with diabetes in the STEP 2 trial.
Semaglutide 2.4 mg once weekly [Wegovy] is a glucagon-like peptide–1 receptor agonist (GLP-1RA) and was approved by FDA as an adjunct to lifestyle modification for chronic weight management. It is indicated in adults with a Body Mass Index (BMI) greater than 30 kg/m² or greater than 27 kg/m² in the presence of at least one obesity-related complication, e.g., type 2 diabetes, hypertension, or dyslipidemia. This is the first once-a-week injectable GLP-1 RA to receive FDA approval for weight loss. The other FDA-approved GLP-1 RA, liraglutide 3 mg [Saxenda], is administered daily and has lower efficacy than semaglutide for weight loss. Semaglutide [Wegovy] is initiated at 0.25 mg once weekly and then incrementally increased at 4-week intervals over the first 20 weeks until a dose of 2.4 mg once a week is reached. The lower dose of semaglutide 1 mg once weekly [Ozempic] was approved for type 2 diabetes in adults in 2017. The most common adverse reactions reported in the patients treated with semaglutide 2.4 mg weekly included nausea, diarrhea, vomiting, constipation, abdominal pain, headache, and fatigue. The semaglutide contains a boxed warning about the potential risk for C-cell tumors, including medullary thyroid carcinoma, and is contraindicated in patients with personal or family history of medullary thyroid carcinoma or in patients with multiple endocrine neoplasia syndrome type 2 [MEN 2].
It is essential to emphasize that comprehensive lifestyle changes are the cornerstone for weight management. Antiobesity medications are most effective when used in conjunction with dietary and lifestyle changes. The efficacy of semaglutide in clinical trials significantly exceeds any other FDA-approved weight management medication for overweight and people with obesity. We need better antiobesity medications for weight management, and semaglutide is a step forward in that direction. Semaglutide is an excellent addition to the therapeutic armamentarium of weight management options for people living with obesity in the US.
Stay up to date with the latest breaking news, gold-standard clinical practice guidelines, educational resources, and novel treatment options by visiting our nutrition and obesity resource center.