Message from the President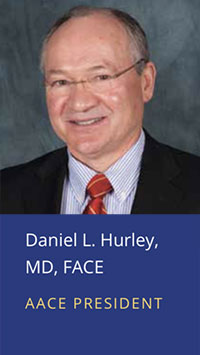 As we close out another association year, it prompts me to reflect on how much we have accomplished in this year of transformation.
Change is a constant, and successful change requires us to adapt and seek out new opportunities – a different and sometimes better way of doing things that challenges the norm.
This is what's happening at AACE. As we elevate the profession of the clinical endocrinologist, we are making improvements to our best practices and processes to evolve with the changing healthcare landscape and to meet the needs of patients.
I would like to mention some of the key elements of improvement happening at AACE. The AACE Board of Directors is working diligently to reorient and improve our focus on education. For instance, the Education Oversight Committee met in early December to brainstorm ways of making AACE the primary educational source for the clinical endocrinologist. Initiatives were identified, including the redevelopment of several AACE signature programs, such as Endocrine University®, and what was formerly known as Diabetes Days, which is now called SCOPE – Successful Co-management between Primary Care and Endocrinology, as well as improving upon many of our sought-after courses and certifications and more. It is a high priority for AACE to be the authority for education to the clinical endocrinologist.
When it comes to membership, we are enhancing the membership experience, analyzing member engagement and ensuring that we remain viable to you and your practice – that includes being cognizant of your membership dues and time.
In addition, we're working to make it easier for you to navigate through the bureaucratic maze of governmental regulations with greater clinical and administrative efficiency so that you can spend more time caring for your patients.
AACE Annual Report 2018-2019
RUNTIME: 3:52
During the 2018- 2019 association year, AACE experienced and continues to experience a significant transformation both internally and externally.
We restructured the AACE nominating process for officers and board positions. Over the course of four evenings, the Nominating Committee conducted video interviews with the nominees for AACE Secretary and eight finalists determined by the Committee for board positions. The Committee agreed on a list of categories/ issues and potential questions as well as a scoring system for each category. Each Secretary nominee and Board finalists (as determined by the Committee) were interviewed. In addition, each nominee was requested to submit a written, one- page response to the question: What do you believe is the greatest opportunity for AACE? The Committee felt that these interviews were tremendously important in determining the preliminary slate of candidates for the Secretary and Board positions.
As many of you are aware, we reconfigured the AACE Chapters' architecture to provide each with more autonomy while maintaining the vital communication and support connections with AACE national. This move towards local self-sufficiency was made, quite simply, because the existing system of chapter management support was running at a significant deficit to AACE each year. Understanding that transparent communications between chapters and national AACE are the ties that bind us and make the whole organization stronger, we created an AACE Chapter Chair Advisory Council consisting of local chapter chairs and we've added a Host Chapter Chair at Board Meetings.
What hasn't changed - our commitment to remain true to our mission and vision. We will not lose sight of our advocacy on behalf of patients and will increase our work with industry partners to make lifesaving medications such as insulin more affordable so that our patients don't have to choose between buying vital prescription medicine and buying groceries. We have recently launched two additional comprehensive resource centers – the AACE Lipids Resource Center and the AACE Bone Resource Center – to complement the existing AACE Diabetes Resource Center and AACE Obesity Resource Center. All four have proven to be go-to sources of information and disease state education for physicians and other health care professionals worldwide.
Many new and exciting enhancements are still ahead at AACE, such as the redesign of our association website, aace.com, which will have enhanced user features and will be much easier to navigate. You will be able to see a preview of the new website design when you are in Los Angeles for AACE 2019. Please visit "The Hub" – AACE's member engagement area in the exhibit hall – for a hands-on demo. There you will also learn how AACE's Digital Strategy Department is reimagining the entire membership experience and will soon implement the technology to make your AACE membership the most personalized and customized association member experience that you have ever been a part of.
Finally, I want to thank the AACE Board of Directors for all their hard work, thoughtful deliberation, and willingness to tackle some very difficult issues. And thanks to all of you who have served selflessly as volunteers to help AACE continue to be the preeminent medical association and the strong "Voice of Clinical Endocrinology."
Respectfully,
Daniel L. Hurley, MD, FACE
AACE President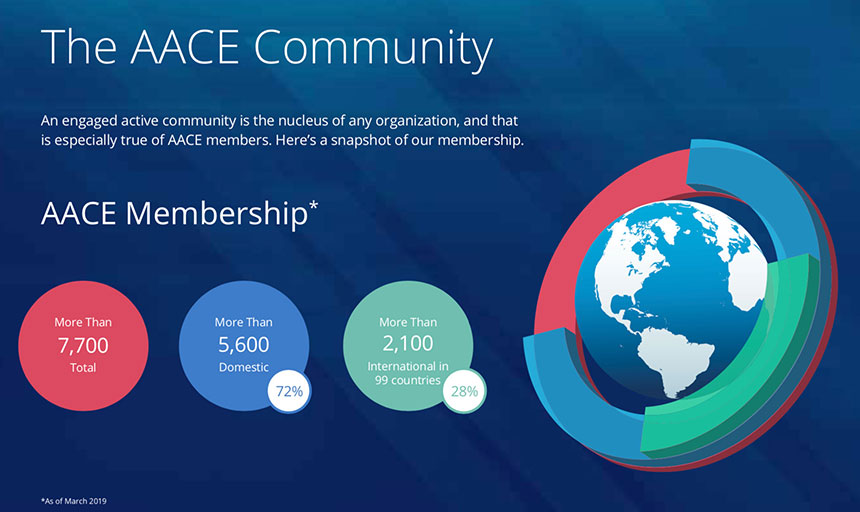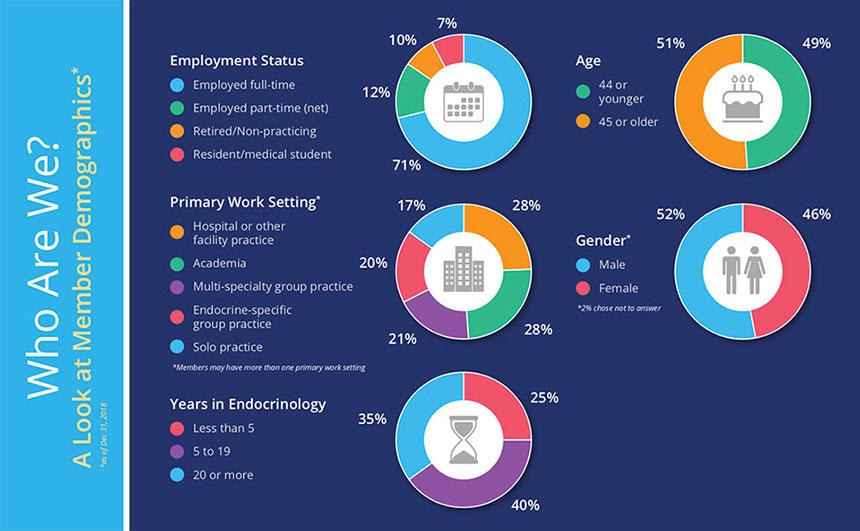 Your Local AACE Connection
Chapters
AACE chapters serve as a vital link between AACE and its members throughout the U.S. and abroad. They provide more personal interaction and engagement opportunities for local and regional AACE members. Currently, there are 22 domestic and 16 international chapters that provide their members a variety of programs including annual meetings, fellows' education, and primary care activities.
During the 2018-2019 Association year:
AACE chapters hosted 33 CME programs
Attendees: 2,200
Faculty: 191
CME hours: 165
Many domestic AACE chapters continue to support legislative and practice management committees that were formed to better integrate activities, coordinate efforts and improve communications between national and local AACE members, as well as to strengthen AACE's grassroots advocacy for legislative issues and congressional candidate support.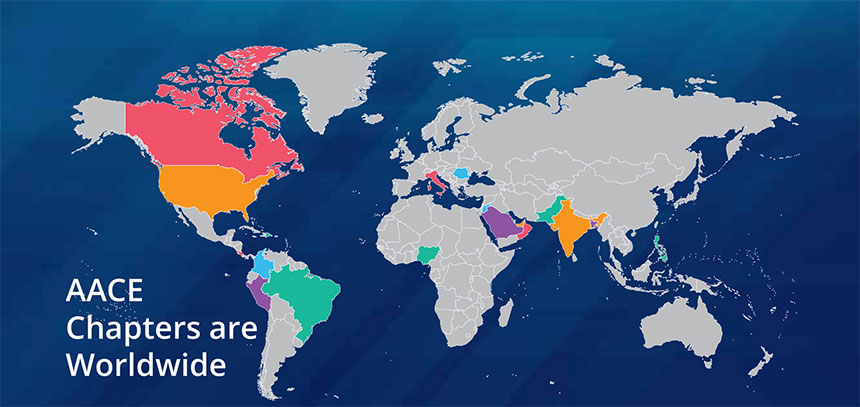 DOMESTIC: Arizona, California, Carolinas (NC, SC), Florida, Georgia, Heartland (AR, KS, MO, NE, OK), Illinois, Michigan, Mid-Atlantic (DC, DE, MD, VA), Minnesota/Midwest (IA, MN, ND, SD, WI), Nevada, New England (CT, MA, ME, NH, RI, VT), New Jersey, New Mexico, New York – Lower, New York – Upper, Ohio River Regional (IN, KY, OH, PA), Pacific Northwest (AK, HI, ID, MT, OR, WA, WY), Puerto Rico, Southern States (AL, LA, MS, TN), Texas and West Virginia.
INTERNATIONAL: Bangladesh, Brazil, Canada, Colombia, Costa Rica, Dominican Republic, Gulf (Bahrain, Kuwait, Oman, Qatar, Saudi Arabia, and United Arab Emirates), India, Italy, Jordan, Lebanon, Nigeria, Pakistan, Peru, Philippines and Romania.
---
Advocating for You
Advocacy Achievements
The AACE Legislative and Regulatory Committee works to advance the practice of endocrinology on your behalf with elected officials and others by influencing public opinion. During the 2018-2019 Association year, AACE advocacy helped facilitate the following achievements:
Coverage of CGM Used in Conjunction with Smart Device
There's truly an app for that! AACE advocacy was instrumental in facilitating a change in the coverage policy for therapeutic Continuous Glucose Monitoring (CGM) for Medicare beneficiaries to support the use of CGMs in conjunction with a smartphone app, including the important data-sharing functions they provide for patients and their families.
Convening of the National Clinical Care Commission
Talk about proud! The first meeting of the National Clinical Care Commission (NCCC) took place last October – a tremendous accomplishment as this was one of AACE's most pivotal projects from conceptualization of the idea of the Commission, introducing and securing passage of the NCCC legislation, and facilitating implementation of the new law with the appointment of Commissioners and the convening of the first meeting.
Delay of the CMS Proposal to Provide a Single Blended Payment for Level 2–5 Evaluation & Management Codes
AACE is working for you – here's how. As a result of AACE advocacy efforts as well as others in the medical community, CMS decided to rethink and not move forward with its proposed Evaluation & Management (E/M) coding and payment proposal in 2019 that would have imposed significant payment cuts for endocrinologists treating patients with complex chronic diseases. Instead, CMS offered a modified plan as a placeholder for implementation in 2021 while they work with stakeholders on the issue. Further, for 2019, CMS is implementing E/M documentation changes that will reduce some administrative burdens for physicians.
Additional Advocacy Activities
DXA Bone Density Scans – AACE is working on a sustainable Medicare payment rate.
Make available meaningful tools to reduce obesity by improving patient access to weight-loss counseling and allowing Medicare coverage for new FDA-approved prescription drugs for chronic weight management.
Out with the old and in with the new – AACE is working on solutions to address decades-old regulations that prevent new diabetes technologies from being covered and available to patients in a timely manner.
The minimalist – We're working to reduce the administrative burdens that impede delivery of high-quality endocrine care, including a halt to expanded utilization of prior authorization and step therapy requirements.
On behalf of patients – Working every day to help control escalating prescription drug costs so patients can have access to live-saving medications required to control their diabetes and other conditions.
Congressional Visits: Talking to Decision-Makers
An important facet of your AACE membership is protecting the way you practice medicine. In 2018, AACE physician-members and others participated in advocacy meetings in Washington, DC and in Congressional districts across the nation to discuss AACE legislative priorities.
AACEPAC – AACE Political Action Committee
AACEPAC provided contributions to 35 candidates, who support AACE legislative priorities, during the two-year 2018 election cycle – a worthwhile effort in initiating and strengthening AACE's relationship with political candidates.
22 of the 35 candidates supported by AACEPAC in the 2018 election cycle won their (re-)election contests.
71% of those AACEPAC-supported candidates in the 2018 election cycle are members of the current Congress.
$45,700 – The amount of campaign contributions disbursed by AACEPAC during the two-year 2018 election cycle.
$31,000 – The approximate amount raised by AACEPAC in calendar year 2018 from 6% of domestic members to help further the cause of AACE advocacy.
AACEPAC recipients who won their elections
AACEPAC Recipient – 2018 Election Cycle
House Candidate Ms. Cindy Axne (D-3rd-IA) Rep. Gus Bilirakis (R-12th-FL)
Rep. Kevin Brady (R-8th-TX)
Rep. Susan Brooks (R-5th-IN)
Rep. Michael Burgess (R-26th-TX)
House Candidate Ms. Abby Finkenauer (D-1st-IA) Rep. Brett Guthrie (R-2nd-KY)
Rep. David Joyce (R-14th-OH)
Rep. Joe Kennedy (D-4th-MA)
Rep. Dave Loebsack (D-2nd-IA)
Rep. Pete Olson (R-22nd-TX)
Rep. Scott Peters (D-52nd-CA)
Rep. Tom Reed (R-23rd-NY)
Rep. Raul Ruiz (D-36th-CA)
Rep. John Shimkus (R-15th-IL)
Rep. Dina Titus (D-1st-NV)
Rep. Fred Upton (R-6th-MI)
Rep. Jackie Walorski (R-2nd-IN)
Rep. Lee Zeldin (R-1st-NY)
Sen. Tim Kaine (D-VA)
Senate Candidate Rep. Jacky Rosen (D-3rd-NV) Senate Candidate Rep. Kyrsten Sinema (D-29th-AZ)
Advocacy on Behalf of Patients
EmPowering Endocrinology Patients
The AACE/ACE EmPower program continued to make inroads to targeted patient populations, expanding its reach and influence through a variety of outreach activities such as:
EmPower® Magazine
Our flagship patient education and information platform, EmPower continued to gain audience members through increased subscription requests from AACE member endocrinologists, allied health care professionals and patients themselves.
Three issues of EmPower Magazine were produced featuring in-depth articles covering the full-range of endocrine diseases including Continuous Glucose Monitoring (CGM) technology, anti-aging hormone supplements, osteoporosis updates, thyroid treatment options for any age, adrenal insufficiency, diabetic neuropathy, thyroid disease and pregnancy, and latent autoimmune diabetes in adults (LADA).
EmPowerYourHealth.org
The EmPower website continued to gain invested audience members, with more than a half-million visitors, of which 92 percent were new visitors.
My Diabetes Emergency Plan
The popularity of AACE's long-standing My Diabetes Emergency Plan – a checklist of items needed to prepare a kit in advance of a disaster and evacuation – is ever growing. Created after Hurricane Katrina in 2005, the My Diabetes Emergency Plan is a free public service. In 2018, nearly 50,000 plans were distributed to AACE members and other health care professionals through outreach activities such as member communications and participation in healthcare conferences/annual meetings including the American Association of Nurse Practitioners (AANP) and the Association of Diabetes Care & Education Specialists (ADCES). In addition, the My Diabetes Emergency Plan website: http://mydiabetesemergencyplan.com, includes downloadable Plans in English and Spanish.
MyDiabetesEmergencyPlan.com – By the Numbers 2017 vs. 2018:
49.46% increase in users
53.82% increase in number of visits
61% increase in page views
Additionally, the Plan was an integral component in the efforts of the Diabetes Disaster Response Coalition in which AACE joined with other organizations such as American Diabetes Association (ADA), Association of Diabetes Care & Education Specialists (ADCES), Insulin for Life USA, and JDRF, to distribute information and supplies following natural disasters in hard-hit areas of the U.S.
The Coalition's efforts received the 2018 Summit Power of A® Award from the American Society of Association Executives (ASAE), presented to associations that leverage their unique resources to solve problems, advance industry/professional performance, and improve world conditions.
Thyroid Awareness
Providing expert resources about thyroid health, AACE's patient- focused website – thyroidawareness.com, helps your patients detect symptoms, find answers to thyroid-related questions, and read about treatment options.
In 2018, there were:
136,981 new users
156,800 visits
196,493 page views
Prescriptionhelp.AACE.com
This online resource helps your patients locate programs that provide assistance for out-of-pocket costs for endocrine disease- related prescription medications and supplies.
Additionally, AACE mobilized to provide assistance to furloughed federal employees struggling to afford insulin and medication resources through prescriptionhelp.aace.com.
The web-based portal offers:
A comprehensive list of patient assistance programs offering reduced or no-cost medications for common endocrine diseases
A compilation of Patient Advocacy organizations that offer help to your in-need patients
A glossary of common health insurance terms and definitions
During 2018, visitors engaged in 7,237 sessions seeking information/ assistance from Prescriptionhelp.AACE.com, and the site had 11,121 page views.
---
Developing Resources for Patient Care
Publications and Courses
Clinical Practice Guidelines (CPGs) and Treatment Algorithms
Known as the "gold standard," AACE's Clinical Practice Guidelines (CPGs) are developed statements to assist health care professionals in medical decision making for specific clinical conditions. Typically, the guidelines are developed by members of an AACE scientific committee or task force and published in AACE's scientific journal, Endocrine Practice.
AACE Treatment Algorithms are published algorithms for several endocrine diseases and serve as a quick reference to CPGs.
The AACE Guidelines page was the most visited page on the AACE website in 2018.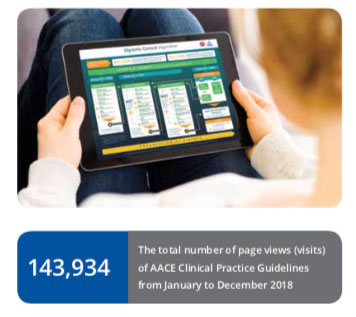 Endocrine Practice
Published monthly, Endocrine Practice (EP) is AACE's scientific peer-reviewed journal whose primary mission is to enhance the health care of patients with endocrine diseases through continuing education of practicing endocrinologists.

* The 2017 Impact Factor of Endocrine Practice, which is the average number of citations received per manuscript published in the journal during 2016 and 2017
** 2017 Journal Citation Reports® (Clarivate Analytics, 2018).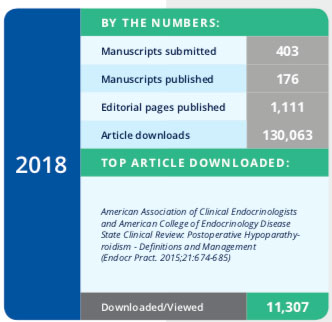 AACE Clinical Case Reports
As an online-only resource, AACE Clinical Case Reports (ACCR) is a bi-monthly, peer-reviewed medical journal dedicated to case reports. Each issue features case reports and commentary from noted endocrinology experts.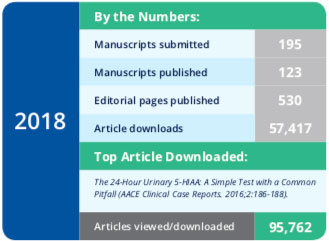 AACE Resource Centers
Ensuring that you have the most up-to-date information in four major endocrine disease states, the AACE resource centers are the go-to source for the latest information.
This Association year, AACE launched two new resource centers – the AACE Lipids Resource Center and the AACE Bone Resource Center. They join two others – the AACE Diabetes Resource Center and the AACE Obesity Resource Center – all of which provide physicians and other health care workers with the latest clinical practice guidelines, updates, resources, slide decks, news and more.
For 2018, the Obesity Resource Center (DRC) has received 9,115 combined visitors, with more than 21,260 unique page views. The Diabetes Resource Center had 52,643 combined visitors and 75,484 views.
---
Fellow of the American College of Endocrinology (FACE)
The 2018-2019 Association year marked the 26th year of the Fellow of the American College of Endocrinology (FACE) designation – a distinction awarded to an AACE member after meeting certain criteria and expectations. The FACE Application Subcommittee is tasked with reviewing the applications sent each year and ensuring criteria has been met.
Since 1993, 3,398 AACE members have received their FACE designation.
During the 2018-2019 application process period – 111 applications were received and 97 were accepted – 58 U.S.-based and 39 international members.
---
Continuing Education
Endocrine Certification in Neck Ultrasound (ECNU)
Endocrine Certification in Neck Ultrasound (ECNU) is a professional designation awarded to physicians who meet specified requirements, measured through a standardized examination and validation of competency processes in diagnostic ultrasound and ultra- sound-guided fine needle aspiration (UGFNA).
Why ECNU?
As with other advanced professional training, the ECNU certification often leads to increased patient confidence and signifies excellence. The voluntary certification is offered by AACE to physicians who perform consultations and diagnostic evaluations for thyroid and parathyroid disorders.
Continuing Medical Education
In 2018, CME activities served to maintain, develop and increase the skills and knowledge of endocrinologists to enhance patient care. Activities focused on helping AACE members achieve CME through live educational events and courses, online programs and through publications.


Since 2002, more than 5,000 final-year endocrine fellows-in- training, representing more than 134 programs across the country, have gathered in Rochester, Minnesota, to attend one of AACE's signature educational events.
This year, 276 fellows attended the weeklong event in March. The comprehensive curriculum is designed to prepare fellows for clinical practice and includes an intense review of endocrine disease management in areas such as:
Neck ultrasound
Bone
Diabetes
Obesity
Lab testing
Practice management Leadership
Lipids management, and a Meet-the-Experts roundtable
Reproductive and transgender health
To accommodate more fellows at different stages of their training as well as to be more cognizant of their time during training, AACE will expand its curriculum and reach of Endocrine University® to include first-year fellows-in-training beginning in February 2020 and will include information on using the latest technology in your practice, diabetes management, and neck ultrasound.
Furthermore, the ever-popular learning experience will be moved from March to November for final-year fellows beginning this year, and will include the latest on:
Bone disease
Obesity
Reproductive endocrinology
Practice management
Leadership
Lipids management
Practice Management Support
From providing guidance on proper billing and coding to the latest information to keep your endocrine practice compliant, AACE's Practice Support Management is an invaluable resource to your practice.
In addition to offering personalized training to AACE members and their staff, AACE offered the following Practice Management Support activities in 2018:
Held live coding courses across the country for more than 45 AACE members and their staff.
Helped resolve more than 145 individual coding and billing questions for AACE members and their staff.
Worked with various medical societies to reduce prior authorizations and increase alternative payment avenues, as well as expanding coverage determinations for new technologies.
Participated in outreach to Medicare and numerous commercial payers on reducing prior authorization requirements and other administrative burdens on behalf of AACE members.
Collaborated with the American College of Physicians (ACP), American Academy of Pediatrics (AAP), American Academy of Family Physicians (AAFP), Academy of Nutrition and Dietetics (AND), and the Endocrine Society on appropriate coding options for insulin delivery devices (insulin pump/artificial pancreas/sensors), including the possibility of new CPT codes.
Worked with the Centers for Medicare Services/CMMI on the AACE- developed Diabetes APM. As part of the Medicare CY 2019 Medicare Fee Schedule rulemaking process, AACE included comments on the new coverage and payment of non-face-to-face patient services and interprofessional consultations provided through communications technology and the interpretation of what can be included.
Collaborated with the American College of Cardiology (ACC) on the Diabetes Collaborative Registry and its accessibility to AACE members.
Contacted Aetna to offer assistance with disease state networks and pathways to help educate them about the practice of endocrinology.
Launched a successful grassroots campaign of analysis and comments to CMS by AACE members regarding the future of Office-Visit Coding and the payment levels for these codes, which led to a two-year delay in payment cuts. AACE is now participating with an AMA CPT/RUC Workgroup on an alternative proposal for CMS.
2018-2019 AACE/ACE Boards
AACE/ACE Officers
President - Daniel L. Hurley, MD, FACE
President Elect - Sandra L. Weber, MD, FACP, FACE
Vice President - Howard M. Lando, MD, FACP, FACE
Treasurer - Felice A. Caldarella, MD, MBA, FACP, CDE, FACE
Secretary - S. Sethu K. Reddy, MD, MBA, FRCPC, FACP, MACE
Immediate Past President - Jonathan D. Leffert, MD, FACP, FACE, ECNU
Chancellor - Pauline Camacho, MD, FACE
ACE Ex Officio Members
George Grunberger, MD, FACP, FACE
Non-Voting, Chair, Disease State Oversight Committee
Jeffrey I. Mechanick, MD, FACP, FACE, FACN, ECNU
Non-Voting, Chair, CPG Oversight Committee
Vin Tangpricha, MD, PhD, FACE
Non-Voting, Chair, Educational Oversight Committee
AACE/ACE Boards
Devaprabu Abraham, MD, MRCP, FACE, ECNU | Michael A. Bush, MD, FACE | W. Timothy Garvey, MD, FACE | Ved V. Gossain, MD, FRCP(c), MACP, FACE | Chris K. Guerin, MD, FACE | Janet B. McGill, MD, FACE | Rachel Pessah-Pollack, MD, FACE | Susan L. Samson, MD, PhD, FRCPC, FACE | Elise M. Brett, MD, FACE, ECNU | Vivian A. Fonseca, MD, FACE | Mark A. Lupo, MD, FACE, ECNU | Vin Tangpricha, MD, PhD, FACE | Guillermo E. Umpierrez, MD, FACP, FACE | Aaron I. Vinik, MD, PhD, FCP, MACP, FACE | David S.H. Bell, MB, FACP, FACE | Gary W. Edelson, MD, FACE | Elizabeth Holt, MD, FACE | Scott D. Isaacs, MD, FACP, FACE | Gregory Randolph, MD, FACS, FACE | Christine L. Twining, MD, FACE | William D. Zigrang, MD, CCD, FACE | Rong Mei Zhang, MD, Fellow-in-Training Member

It's All in the Numbers
The 2017 audited financial statements were presented in a consolidated basis for American Association of Endocrinologists (AACE), American College of Endocrinology (ACE), and AACE Corp for the first time. Accordingly, the 2018 financial information and status is presented in a consolidated basis to maintain consistency. AACE (consolidated) maintained its healthy financial status, with $15.6 million in revenue primarily from programs and generous corporate support, plus a one-time substantial contribution from the estate of a former patient. Programs included the very successful 2018 Annual Meeting, industry training, continuing medical education courses, and certification programs. Expenditures total $15.5 million including meetings, printing, staff expenses, travel and contract services in support of programs and member services.
AACE also ended the year with a solid balance sheet, including assets of $17.4 million and liabilities of $9.1 million, with $8.3 million in Net Assets.
AACE once again continues to maintain strong reserves totaling $10.2 million on December 31, 2018. Reserves are critical for taking advantage of business growth opportunities, funding strategic operational initiatives, and protecting AACE in the event of unanticipated shortfalls in revenue.