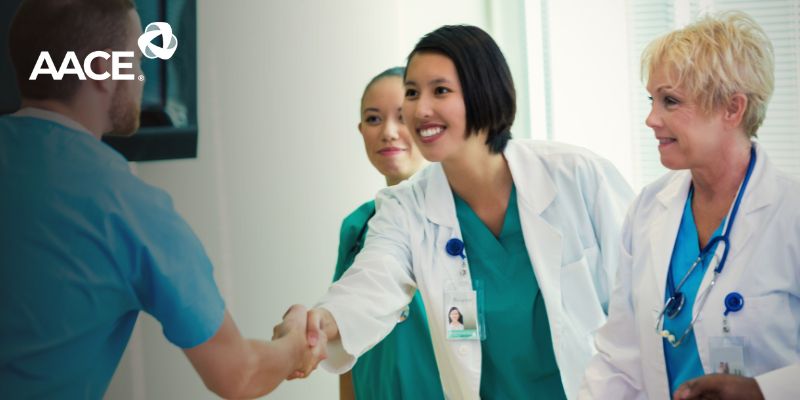 June 28, 2022
Open Calls for Submissions
We're seeking volunteers to participate in the development of AACE consensus statements, guidelines, educational programs, and more. Check out our latest opportunities and how to apply today.
---
Submit Papers for Special Cardiometabolic Health Issue of Endocrine Practice — Deadline Extended to July 31
We're accepting submissions for a special issue of Endocrine Practice, with a focus on original research and reviews on cardiometabolic disease. Clinical, translational, and epidemiologic papers are welcome for submission.
Submissions will receive expedited peer review. Accepted papers will be published in the next available issue of Endocrine Practice with special branding and posted on a branded Special Issue webpage simultaneously. Learn more about the benefits of publishing in a special issue here.
Submit your manuscript online and select the article type "Cardiometabolic" when submitting your manuscript.
LEARN MORE
---
Call for Abstracts for 2022 AACE Cardiometabolic Conference — Deadline Aug. 5
Our 2022 Cardiometabolic conference abstract submission period is open now through Friday, August 5, 2022, at 11:59 pm ET. We invite you to submit an abstract for the unique opportunity to have your work reviewed by experts in the field of endocrinology and cardiometabolic disease. If accepted, your abstract will be published as a supplement to AACE's medical journal, Endocrine Practice.
LEARN MORE
---
Call for General Session Education Submissions for 2023 AACE Annual Meeting — Deadline Aug. 10
Join us May 4-6, 2023, in Seattle, WA for our Annual Meeting
We're seeking general education session proposals for our 2023 Annual Meeting. Apply today to have the unique opportunity to be part of our Annual Meeting education program.
LEARN MORE
---
Fellows Apply for Dr. Lewis E. Braverman Educational Grant — Deadline Aug. 30
Fellows in training can apply now for the Dr. Lewis E. Braverman Educational Grant. This one-of-a-kind grant honors Dr. Braverman while supporting the educational activities of endocrinology fellows by providing a unique educational experience that includes the ability to travel anywhere worldwide away from your home program for 1-4 weeks, up to $5000 in travel reimbursement expenses and more! Read more about a recent recipient's experience.
LEARN MORE
---
Endocrine Practice Call for Peer Reviewers — Deadline Nov. 1
We're seeking volunteers to serve as journal peer reviewers to evaluate manuscripts and provide constructive criticism to editors and authors. Outstanding reviewers may be considered for the Editorial Board. If you are interested in serving as a peer reviewer, email [email protected], with your CV/bio and a short statement describing your area of expertise, any qualifications and reasons for interest.
[email protected]
---
ACCR Editorial Board Positions Available — Deadline Dec. 1
ACCR is expanding its Editorial Board and outstanding journal peer reviewers will be considered. Email [email protected] and include your CV/bio, any qualifications, your expertise, and reasons for interest. Interested in serving as a journal peer reviewer? Email [email protected] and let us know. Include your contact information, your area of expertise and we'll include you in our pool of peer reviewers for future article submissions.
[email protected]