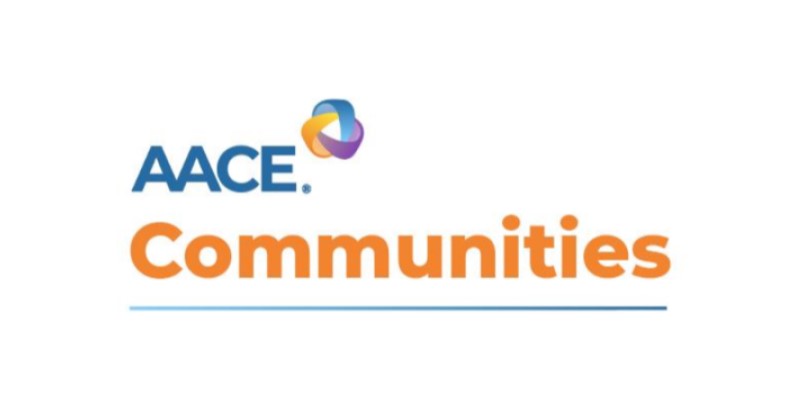 March 2021
Coming soon: a new way to connect with your peers on a micro level.
With the launch of our new brand and community in late 2020, we shared with you our commitment to working together to elevate the practice of clinical endocrinology to benefit each individual patient and the health of our society. Our brand states that "For our members, we offer an inclusive community that shares and disseminates our collective knowledge, experience, ideas and ideals, giving each member a voice."
This statement is an important factor that has led to our work on a new initiative coming soon for our members: AACE Communities. With AACE Communities, we will strive to provide our audiences a more inclusive, personalized experience – connecting individuals in conversations and learning across shared interests, locations, and backgrounds – and giving each member a voice. The first two phases of this new initiative will include online communities and global education.
Online Communities
The virtual world we live in has made it easy to connect with others around the world on social media and other sites with the click of a button. And in our clinical endocrinology community, we can benefit from online interactions with each other, too. Coming soon to AACE.com will be the ability to engage with other members on discussion topics and articles via commenting features, editorials, and other content on an AACE Communities channel. Look for an invitation to join the conversation later this Spring 2021.
Global Community Experiences
We are also committed to bringing the AACE Communities initiative to life with regional audiences globally. We are working to expand our educational offerings to destinations around the world, with live AACE Communities events occurring regionally throughout countries beyond the United States. Through these events, attendees will be able to meet AACE experts, learn the latest in clinical endocrinology, and network with AACE community members in their area.
Our first international AACE Communities events are currently in the works for the Middle East in Fall/Winter 2021, and India as well. More information on these and other locations is coming soon.
Together, let's elevate endocrinology
And these are only the beginning. We hope to build more opportunities for our community members to connect with each other in the future so that together, we can all continue to elevate endocrinology. Learn more about our new brand and community here.
Interested in partnering with us on a new AACE Communities area? Let us know.