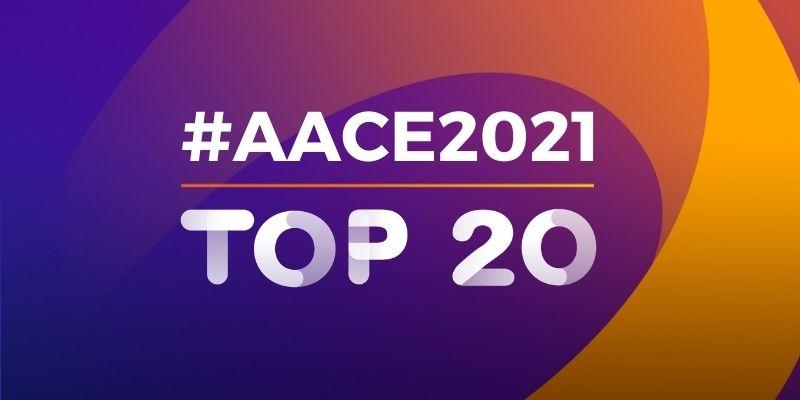 Available 7/12/2021 | Expires 7/12/2022
Online
Our 2021 Annual Meeting, which took place from May 26-29, was a successful virtual event. Our program featured over 150 expert presenters covering six disease state topic tracks with over 130 sessions. As the world's largest clinical endocrinology meeting, created for the whole endocrine care team, we pulled the #AACE2021: Top 20 most popular sessions into one package that you can now access on-demand.
CME Credits: 22
MOC Credits: 22
Price: Non-members: $249 | Informed Members: $199 | Engaged Members: $149
CLICK TO BUY
#AACE2021: Top 20 features
22 CME/MOC
3 Obesity sessions
3 Diabetes Sessions
4 Thyroid Sessions
& much more!
Target Audience
Endocrinologists, cardiologists, nephrologists, gastroenterologists/liver disease specialists, primary care physicians, physician assistants, nurse practitioners, nurses, and pharmacists.
Learning Objectives
By the end of the activity, participants will be able to:
Discuss the latest scientific and clinical discoveries in the field of endocrinology, diabetes and metabolism.
Apply new found knowledge to the diagnosis and management of patients with disorders of endocrinology, diabetes or metabolism for improved patient outcomes. 
Assess the potential applications of emerging scientific advances that affect the practice of endocrinology. 
Explain to patients the latest clinical treatment options in endocrine health.
Full Session List
| | |
| --- | --- |
| Session Title | Speaker/s |
| Approach to Patient with Adrenal Insufficiency  | Richard Auchus |
| The Discovery of Insulin Revisited: Lessons for the Modern Era  | Gary Lewis  |
| The ABCD of Obesity: A Joint Session with AACE and EASO  | W. Timothy (Tim) Garvey, Gema Frühbeck, Luca Busetto, Jeff Mechanick |
| Late Breaking Session - Clinical Practice Guideline: Use of Advanced Technology in Management of persons with Diabetes Mellitus  | George Grunberger, Jennifer Sherr |
| Managing Thyroid Disease in Pregnancy  | Spyridoula Maraka |
| Obesity, Genetics, Precision Medicine  | Sadaf Farooqi |
| FDA Updates in Endocrinology, Diabetes, and Obesity | Naomi Lowy |
| Updates on Diabetes and Pregnancy | Linda Barbour |
| Behavioral Therapy in Weight Management  | Kelly Allison |
| Personalized Treatment in Acromegaly  | Maria Fleseriu |
| Hyperlipidemia in Young Patients with Type 1 Diabetes: Review of Current Guidelines and Evidence | Dennis Bruemmer |
| Rare Bone Diseases You Should Never Miss | Michael T. Collins |
| Challenges in Diagnosis and Treatments of Thyroid Dysfunction  | Victor Bernet, Tracy Tylee, Alex Tessnow, Salman Razvi |
| Vitamin D in the Era of Precision Medicine  | Michael Levine |
| Evaluation and Management of Suspicious Adrenal Masses | Anand Vaidya |
| Mild Forms of Hyperparathyroidism (Including Normocalcemic) - What's an Endocrinologist To Do? | Natalie Cusano |
| Cardiovascular Risk in Polycystic Ovarian Syndrome: When to Screen & How to Treat  | Margaret Lippincott |
| Advances in the Management of Thyroid Cancer  | Sina Jasim, Shelby Holt, Michael Tuttle, Naifa Busaidy  |
| Cyclical Cushing Syndrome  | Lynnette Nieman |
| Triglycerides - Medications and Trials | Betul Hatipoglu |
Accreditation and Designation Statements
ACCME
The American College of Endocrinology (ACE) is accredited by the Accreditation Council for Continuing Medical Education (ACCME) to provide continuing medical education for physicians.
The American College of Endocrinology (ACE) designates this enduring material for a maximum of 22 AMA PRA Category 1 Credit(s)TM. Physicians should claim only the credit commensurate with the extent of their participation in the activity.
ABIM MOC
Successful completion of this CME activity, which includes participation in the evaluation component, enables the participant to earn up to 22 MOC points in the American Board of Internal Medicine's (ABIM) Maintenance of Certification (MOC) program. Participants will earn MOC points equivalent to the amount of CME credits claimed for the activity. It is the CME activity provider's responsibility to submit participant completion information to ACCME for the purpose of granting ABIM MOC credit. Only those who receive a passing score will be eligible for MOC credit.
Please allow two weeks for MOC points to appear within your account on the ABIM website. Participation information will be shared with the American Board of Internal Medicine (ABIM) through the Accreditation Council for Continuing Medical Education (ACCME) Program and Activity Reporting System (PARS).
Disclosures and Conflicts of Interest
The American Association of Clinical Endocrinologists (AACE) remains strongly committed to providing the best available evidence-based clinical information to participants of this educational activity and requires an open disclosure of any potential conflict of interest identified by our faculty members. It is not the intent of AACE to eliminate all situations of potential conflict of interest, but rather to enable those who are working with AACE to recognize situations that may be subject to question by others. All disclosed conflicts of interest are reviewed by the CME Subcommittee to ensure that such situations are properly evaluated and, if necessary, resolved. AACE educational standards pertaining to conflict of interest are intended to maintain the professional autonomy of the clinical experts inherent in promoting a balanced presentation of science. Through our review process, all AACE accredited activities are ensured of independent, objective, scientifically balanced presentations of information. Disclosure of any or no relationships will be made available for all educational activities.
Click to view disclosures




Name of Individual w/ Disclosed Financial Relationship
Name of Commercial Interest Disclosed
Nature of Relationship w/ the Commercial Interest
Jeff Mechanick, MD
GoodSugar +
Ownership Int.
Abbott Nutrition International
Honorarium
Natalie Cusano, MD
Radius, Shire/Takeda
Consulting Fees
Alexion, Shire/Takeda
Honorarium
Radius
Research grant
Richard Auchus, MD
Adrenas, Corcept, Janssen, Omass Therapeutics, Orphagen Pharmaceuticals, Quest Diagnostics, Recordati Rare Diseases
Consulting Fees
Neurocrine, Novartis, Spruce Biosciences, Stonebridge
Research grant
Gary Lewis, MD
Amgen Canada
Consulting Fees
Dr. Dace L. Trence, MD, FACE
Medtronic
Stockholder/Ownership Interest
Sanofi
Stockholder/Ownership Interest
W. Timothy (Tim) Garvey, MD
Eli Lilly, Epitome, Novo Nordisk, Pfizer
University Grants/Research Support
Professor Luca Busetto, MD
Bruno farmaceutici
Honorarium
Novo Nordisk
Consulting Fees
Dror Dicker, MD
AstraZeneca, Boehringer Ingelheim, Novo Nordisk
Consulting Fees
Boehringer Ingelheim, Novo Nordisk, Eli Lilly
Research Grant
AstraZeneca, Boehringer Ingelheim, Novo Nordisk
Honorarium
Prof George Grunberger, MD, FACP, MACE
Medtronic
Contracted Research
Jennifer Sherr, MD, PhD
Bigfoot biomedical, Cecelia Health, Eli Lilly, Insulet Corporation, Medtronic Diabetest
Consulting Fees
Dexcom, Medtronic
Research Support
Eli Lilly, Insulet Corporation, Medtronic Diabetes
Contracted Research
Lexicon, Sanofi, Insulet, Eli Lilly, Medtronic
Honorarium
Sandra Weber, MD, FACP, FACE
NIH
Grant/Research Reprot
NIH
Research Grant
Maria Fleseriu, MD, FACE
Chiasma, Crinetics, Inois, Novartis, Recordati
University Grants/Research Support
Chiasma, Crinetics, Ionis, Ispen, Novartis, Pfizer, Recordati
Honorarium
Chiasma, Crinetics, Ionis, Ispen, Novartis, Pfizer, Recordati
Consulting Fees
Irina Bancos, MD
HRA Pharma, Sparrow Pharmaceutics
Consulting Fees
Steven T. Harris, MD, FACP, FASBMR
Amgen, Radius Health
Consulting Fees
Amgen, Radius Health
Honorarium
Alex Tessnow, MD
Horizon, Sanofi
Consulting Fees
Salman Razvi, MD, FRCP
Medtronic
Honorarium
Anand Vaidya, MD, MMSc
Corcept Therapeutics, HRA Pharma, Mineralys
Consulting Fees
Michael Tuttle, MD
Bayer, Eisai, Veracyte
Consulting Fees
Adriana G. Ioachimescu, MD, PhD, FACE
Chiasma, Crinetics, Pfizer, Recordati, Stonebridge, Tiburio
Consulting Fees
Chiasma, Pfizer, Recordati, Novartis, Stonebridge
Research Grant
Chiasma, Crinetics, Pfizer, Recordati, Stonebridge
Pending grants

All other speakers and developers reported no relevant conflicts of interest
Price:
Non-members: $249 | Informed Members: $199 | Engaged Members: $149