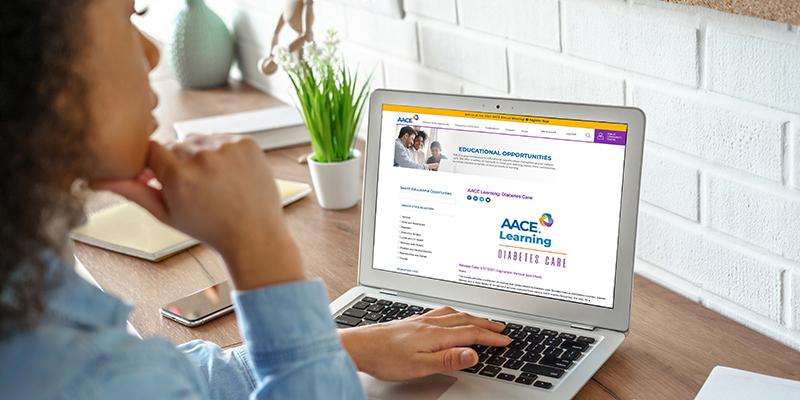 March 17, 2021
Online
Stay up to date with the latest advancements in endocrine treatment options, technologies, and patient care with the new AACE Learning: Disease State Bundles. Our learning bundles are geared toward members who want to continue their clinical education and focus their learning in specific areas of endocrinology. Each bundle provides a collection of courses and media related to a disease state or category. Bundles feature standalone courses, master classes, and a video library of on-demand lectures captured from various AACE events throughout the year. As a comprehensive, one-stop-shop, the disease state learning bundles are a valuable tool for clinical endocrinology knowledge and continued education.
Benefits of Learning Bundles:
Comprehensive online courses and on-demand videos all in one platform
Organized by endocrine disease state
65 Courses
85+ CME/MOC credits
80+ Videos
Self-paced
Click on Each Disease State Learning Bundle to Learn More:
Learning Bundle Platform:
Dashboard:
The learning center dashboard provides a list of courses available within each disease state. Each course will have its own progress indicator, as well as basic information listed, including CME/MOC credits and user ratings.
Search Feature:
The search feature provides a fast and convenient option to search for keywords in the titles of courses or individual content.
Video Library:
The video library offers a media player with a collection of relevant lectures and associated files, including handouts, slides, speaker info. Learners can search for specific content and lectures, as well as bookmark videos for easy search filtering.
CME/MOC Credits:
Each course lists the available CME/MOC credits for continued education and patient care. With 65 different courses, you can earn up to 85+ CME/MOC credits!
Optimize your patient care and take advantage of our comprehensive learning bundles by purchasing your endocrine disease state package today.
ACCME CME Credit
The American College of Endocrinology is accredited by the Accreditation Council for Continuing Medical Education (ACCME) to provide continuing medical education for physicians.
Click on each disease state bundle below to view the courses, video library, and how to get started!