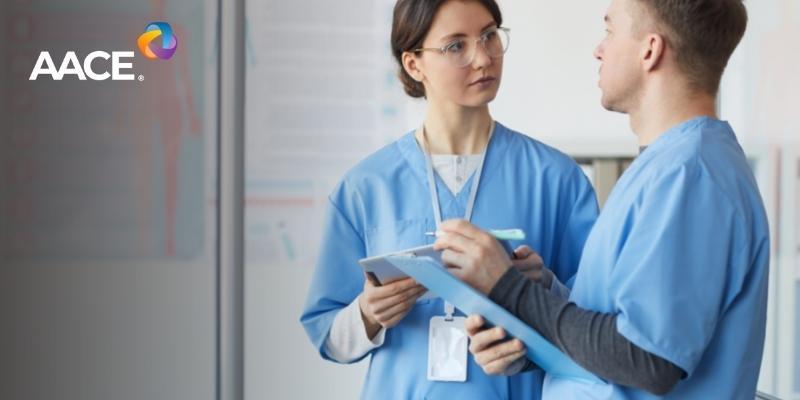 Starts: 11/30/2021 | Expires 11/30/2022
Online
Exploring CGM 2021: Achieving Treatment Goals Together takes learners through three case studies of persons with diabetes, addressing the traditional approaches to glucose monitoring, selecting the appropriate Continuous Glucose Monitoring (CGM) device and reviewing clinical management of the person with diabetes. This is designed to equip primary care clinicians with evidence-based knowledge and increased competence about how to use CGM devices to guide and modify treatment approaches for patients with diabetes.
CME Credits: 1
MOC Credits: 1
Price: FREE
CLICK TO REGISTER FOR FREE
Target Audience
This educational initiative is intended for primary care clinicians who care for patients with diabetes.
Learning Objectives
Upon completion of the activity, participants should be able to:
Review traditional approaches to monitoring glucose
Discuss continuous glucose monitoring and the role it plays in type 2 diabetes (T2D)
Select the appropriate kind of CGM for the individual person
Incorporate CGM into the multi-disciplinary clinical management of the person with diabetes
Click the headings below for more information.
Accreditation and Designation Statements

Accredited Provider

This activity is provided by the American College of Endocrinology in collaboration with The France Foundation.

 

  

 

Accreditation Statement

The American College of Endocrinology is accredited by the Accreditation Council for Continuing Medical Education (ACCME) to provide continuing medical education for physicians.

Credit Designation

Physicians

The American College of Endocrinology designates this enduring activity for a maximum of 1.0 AMA PRA Category 1 Credit(s)™. Physicians should claim only the credit commensurate with the extent of their participation in the activity.

Nurses

Nurses who are certified by the American Nurses Credentialing Center (ANCC) may utilize activities that are certified by ACCME-accredited providers toward their requirement for certification renewal by the ANCC. A certificate of attendance will be provided by The American College of Endocrinology, an ACCME accredited provider.

Maintenance of Certification

Successful completion of this CME activity, which includes participation in the evaluation component, enables the participant to earn up to 1.0 MOC Medical Knowledge point(s) in the American Board of Internal Medicine's (ABIM) Maintenance of Certification (MOC) program. Participants will earn MOC point(s) equivalent to the amount of CME credits claimed for the activity. It is the CME activity provider's responsibility to submit participant completion information to ACCME for the purpose of granting ABIM MOC credit. Aggregate participant data will be shared with commercial supporters of this activity.

Statement of Need

Advancements in science, such as continuous glucose monitoring (CGM) devices, hold great promise in empowering healthcare providers and patients in controlling T2D. Yet, research tells us that our healthcare providers, especially primary care providers, are challenged in keeping up with these advancements.
Commercial Support

This activity is supported by an educational grant from Abbott Diabetes, Lilly, and Medtronic.
Disclosures and Conflicts of Interest

Disclosures

In accordance with the ACCME Standards for Commercial Support, The American Association of Clinical Endocrinology (AACE) and The France Foundation (TFF) require that individuals in a position to control the content of an educational activity disclose all relevant financial relationships with any commercial interest. AACE and TFF resolve all conflicts of interest to ensure independence, objectivity, balance, and scientific rigor in all their educational programs. Furthermore, AACE and TFF seek to verify that all scientific research referred to, reported, or used in a CME/CE activity conforms to the generally accepted standards of experimental design, data collection, and analysis. AACE and TFF are committed to providing learners with high-quality CME.

Activity Staff Disclosures

The planners, reviewers, editors, staff, CME committee, and other members at the American Association of Clinical Endocrinology who control content have no relevant financial relationships to disclose.

The planners, reviewers, editors, staff, CME committee, and other members at The France Foundation who control content have no relevant financial relationships to disclose.

Faculty Disclosures - Activity Faculty

The faculty listed below report that they have relevant financial relationships to disclose:

Anne Peters, MD, serves on advisory boards for Abbott Diabetes Care, Lilly, NovoNordisk, AstraZeneca, Vertex, Medscape, and Zealand. She does research funding for Abbott Diabetes Care, Dexcom, and Insulet. She also reports stock options for Omada Health and Teladoc.
Jay Shubrook, DO, FACOFP, FAAFP, serves on an advisory board for Bayer, NovoNordisk, and Sanofi

The following faculty report that they have no relevant financial relationships to disclose:

Jane Jeffrie Seley, DNP, MSN, MPH, GNP, CDE, BC-ADM, CDTC, FAADE, FAAN

Disclosure of Unlabeled Use

AACE and TFF require CME faculty (speakers) to disclose when products or procedures being discussed are off label, unlabeled, experimental and/or investigational, and any limitations on the information that is presented, such as data that are preliminary, or that represent ongoing research, interim analyses, and/or unsupported opinion. Faculty in this activity may discuss information about pharmaceutical agents that is outside of US Food and Drug Administration approved labeling. This information is intended solely for continuing medical education and is not intended to promote off-label use of these medications. AACE and TFF do not recommend the use of any agent outside of the labeled indications. If you have questions, contact the Medical Affairs Department of the manufacturer for the most recent prescribing information.
Disclaimer and Copyright

Disclaimer

The American Association of Clinical Endocrinology and The France Foundation present this information for educational purposes only. The content is provided solely by faculty who have been selected because of recognized expertise in their field. Participants have the professional responsibility to ensure that products are prescribed and used appropriately on the basis of their own clinical judgment and accepted standards of care. The American Association of Clinical Endocrinology, The France Foundation, and the commercial supporter(s) assume no liability for the information herein.

Copyright

Copyright 2021, AACE. All rights reserved. No part of this enduring material may be reproduced or transmitted in any other form or by any other means, electronic or mechanical, without first obtaining written permission from AACE.