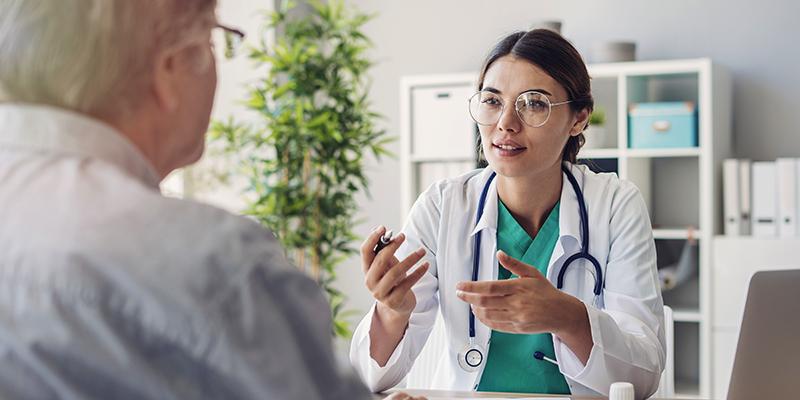 Start 9/30/2020 | Expires 9/30/2021
Online (myCME)
Program Description
As endocrine disorders are on the rise, it's very important that primary care providers take a role in patient management. Certain populations of diabetes patients particularly benefit from use of GLP 1 RAs. These benefits are so important that GLP 1 RAs have moved up in the treatment algorithms for diabetes. Reconsideration of the place of GLP 1 RAs in the treatment of diabetes is very recent, reflected in newest guidelines, and of significant educational importance for PCPs who may be unaware of this management approach for T2D. Adherence to therapy is a significant challenge clinicians face in the management of patients with T2D, necessitating an ongoing discussion of management strategies.
CME Credits: 1
MOC Credits: 1
Price: FREE
CLICK TO ENROLL FOR FREE
Intended Audience
This educational initiative is intended for primary care clinicians who care for patients with diabetes.
Commercial Support
This activity is supported by independent educational grants from Lilly USA, LLC and Novo Nordisk Inc.
Learning Objectives
Upon completion of this activity, participants should increase their ability to:
Describe MOA of the GLP-1 RAs
Compare and contrast safety and efficacy data for the GLP-1 RAs
Identify patients with T2D who would particularly benefit from GLP-1 RAs
Outline strategies with the patient to ensure adherence to GLP-1 RAs therapy
Accreditation Statement
The American College of Endocrinology is accredited by the Accreditation Council for Continuing Medical Education (ACCME) to provide continuing medical education for physicians.
Designation Statement
The American College of Endocrinology designates this enduring activity for a maximum of 1.00 AMA PRA Category 1 Credit(s)™. Physicians should claim only the credit commensurate with the extent of their participation in the activity.
Additional Credit Information
An important note about ABIM MOC Points
Successful completion of this CME activity, which includes participation in the evaluation component, enables the participant to earn up to 1.00 ABIM MOC Part II points in the American Board of Internal Medicine's (ABIM) Maintenance of Certification (MOC) program. Participants will earn MOC points equivalent to the amount of CME credits claimed for the activity. It is the CME activity provider's responsibility to submit participant completion information to ACCME for the purpose of granting ABIM MOC credit.

Step 1: To receive MOC points, you MUST pass the posttest and complete the evaluation. Complete all questions under the "ABIM Questions" section, located at the bottom of the course evaluation form. This includes 1) attesting that our partner may submit your credits to ABIM, 2) attesting that you are ABIM board certified, 3) providing your ABIM #, and 4) providing your date of birth (MM/DD).

Step 2: For ABIM MOC points, your information will be shared with the ABIM through AACE's ACCME Program and Activity Reporting System (PARS). Please allow 6-8 weeks for your MOC points to appear on your ABIM records.
Accredited Provider Disclosures
The planners, reviewers, editors, staff, CME committee, or other members at the American Association of Clinical Endocrinology (AACE) who control content have no relevant financial relationships to disclose.

The planners, reviewers, editors, staff, CME committee, or other members at The France Foundation (TFF) who control content have no relevant financial relationships to disclose.
Disclosure of Conflicts of Interest Policy
In accordance with the ACCME Standards for Commercial Support, the American Association of Clinical Endocrinology (AACE) and The France Foundation (TFF) require that individuals in a position to control the content of an educational activity disclose all relevant financial relationships with any commercial interest. AACE and TFF resolve all conflicts of interest to ensure independence, objectivity, balance, and scientific rigor in all their educational programs. Furthermore, AACE and TFF seek to verify that all scientific research referred to, reported, or used in a CME/CE activity conforms to the generally accepted standards of experimental design, data collection, and analysis. AACE and TFF are committed to providing learners with high-quality CME.
Disclosure of Unlabeled Use
AACE and TFF require CME faculty (speakers) to disclose when products or procedures being discussed are off label, unlabeled, experimental, and/or investigational, and any limitations on the information that is presented, such as data that are preliminary, or that represent ongoing research, interim analyses, and/or unsupported opinion. Faculty in this activity may discuss information about pharmaceutical agents that is outside of US Food and Drug Administration approved labeling. This information is intended solely for continuing medical education and is not intended to promote off-label use of these medications. AACE and TFF do not recommend the use of any agent outside of the labeled indications. If you have questions, contact the Medical Affairs Department of the manufacturer for the most recent prescribing information.
Disclaimer
The American Association of Clinical Endocrinology and The France Foundation present this information for educational purposes only. The content is provided solely by faculty who have been selected because of recognized expertise in their field. Participants have the professional responsibility to ensure that products are prescribed and used appropriately on the basis of their own clinical judgment and accepted standards of care. The American Association of Clinical Endocrinology, The France Foundation, and the commercial supporter(s) assume no liability for the information herein.
Faculty
Elena A. Christofides, MD, FACE
Endocrinologist
Endocrinology Associates
Columbus, OH

Dr. Christofides serves on the speakers bureau and consults for AbbVie, AZ, Corcept, Eli Lilly/BI,
NovoNordisk, Pfizer, Shire.
Louis Kuritzky, MD
Family Physician
University of Florida
Gainesville, Florida

Dr. Kuritzky has no relevant financial relationships to disclose.
Ji Hyun Chun (CJ), PA-C,
MPAS, BC-ADM
Endocrinology
OptumCare Medical Group
Orange County, CA

Dr. Chun receives honorarium from Corcept.