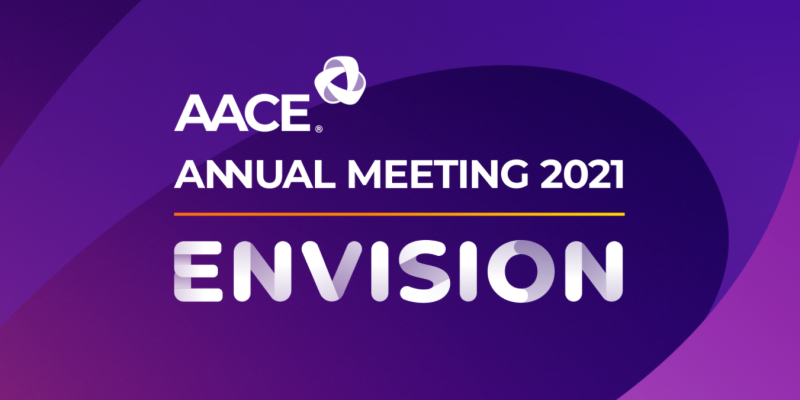 May 26 - 29, 2021
Join us for our 30th Annual Meeting as we celebrate 30 years of our AACE clinical endocrinology community.
Envision: AACE's 2021 Annual Meeting to be held 100% virtual in May
May 26 – 29, 2021

To ensure the safety of our community, we have decided to host our 2021 Annual Meeting as a 100% virtual model. Due to the ongoing COVID-19 global pandemic, AACE's 2021 Annual Meeting will be held as a four-day virtual only meeting, May 26-29, 2021. We believe this is the safest approach for the well-being of our global audience, and we appreciate how a virtual event will make it possible to broaden the learning opportunities and engagement with our clinical endocrinology community at this time.

Our Annual Meeting Program Committee was prepared, and has already developed a program tailored to an online format. We have a great lineup filled with a combination of state-of-the-art lectures, advanced learning experiences, engaging sessions, expert panel discussions, abstracts and more. And as AACE's 30th Annual Meeting, we still have plans to celebrate and honor the history of our great organization.

As a community, it is crucial that we continue to join together and stay connected even in a virtual world. Our unique virtual meeting platform will give us all the opportunity to engage with our colleagues, industry partners, and make new connections from around the world. Together, let us continue to elevate endocrinology and improve global health.

Registration is now open, and you can learn more about the program and speakers at our annual meeting website. LEARN MORE & REGISTER
We look forward to welcoming you online in May!

---
Sneak peek at the meeting lineup:

• Four days of virtual education programming
• One keynote speaker: Tait Shanafelt, MD
• Six disease specific plenary sessions
• Six education tracks
• One late breaking education session
• 80+ hours of CME, Nursing and Pharmacy Credits
• One full virtual abstract program with e-posters, oral presentation and late breaking sessions
• Zero boring lectures

---
Call for Abstracts Now Closed
Thank you for your submissions. If you have latebreaking science, stay tuned. Latebreaking submissions will be open later this month.
---