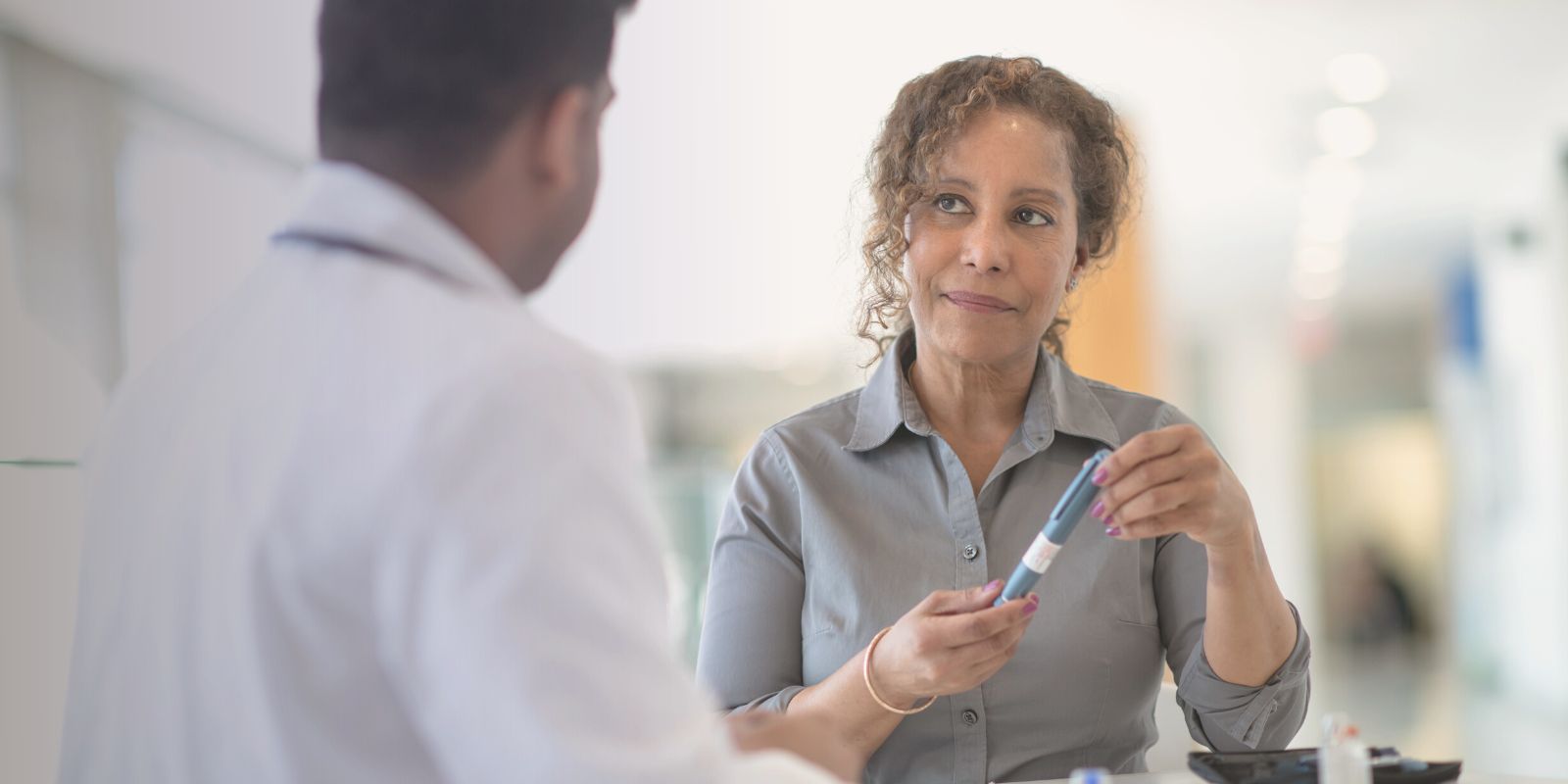 A team approach is very important when managing diabetes. The individual with diabetes is the center of the team and should help make decisions together with their team of caregivers. To address this important need in the healthcare environment, AACE has provided a major update to its diabetes guideline to be used by the multi-disciplinary care teams that are involved in the care and management of diabetes.
The 2022 update of the American Association of Clinical Endocrinology (AACE) Clinical Practice Guideline: Developing a Comprehensive Diabetes Mellitus Care Plan features updated and new evidence-based clinical practice recommendations for the care and management of diabetes. This guideline takes a person-centered, team-based approach to help improve care for people with prediabetes and diabetes. It addresses a variety of new topics, including COVID-19 vaccination, telehealth, social determinants of health, male and female infertility, posttransplant diabetes and nutritional supplements. It also provides complications-centric recommendations for the use of pharmacotherapy for the management of diabetes mellitus, and much more.
In this online learning activity, learners will be taken through these updated recommendations in the guideline that address team based approaches in diabetes care.
Engaged Member: $30.00
Informed Member: $40.00
Non-member: $50.00
Starts 10/7/2022 | Expires 10/7/2023
Learning Objectives
Upon completion of the activity, participants should be able to:
Apply the most up to date recommendations for management of comorbidities, including obesity, hypertension, dyslipidemia, retinopathy, neuropathy, diabetic/chronic kidney disease, and cardiovascular disease.
Describe new strategies for lifestyle therapy that includes healthy eating and behaviors, and physical activity is a foundational aspect of treatment for persons with diabetes, who also may have or are at risk for other cardiometabolic disease outcomes.
Analyze strategies for person-centered, team-based clinical decision making and improve the comprehensive care of persons with prediabetes and diabetes.
Faculty

Faculty

| | |
| --- | --- |
| | Lawrence Blonde, MD, FACP, MACE |

Lawrence Blonde, MD, FACP, MACE, is Director of the Ochsner Diabetes Clinical Research Unit, in the Frank Riddick Diabetes Institute, Department of Endocrinology, at the Ochsner Medical Center, New Orleans, LA. Dr. Blonde is presently an Associate Editor for the journal Diabetes Care. He has been Chair of the Steering Committee of the National Diabetes Education Program (NDEP), a member of the AACE Board of Directors and the Board of Trustees of ACE and a former member of the ADA Board of Directors and former chair of the ADA Professional Practice Committee. Dr. Blonde was a co-author of the 2015 "American Association of Clinical Endocrinologists (AACE) and American College of Endocrinology (ACE) - Clinical Practice Guidelines For Developing A Diabetes Mellitus Comprehensive Care Plan." He was also a co-author of the 2020 AACE/ACE Comprehensive Type 2 Diabetes Management Algorithm.
Accreditation

Target Audience

Endocrinologists, cardiologists, nephrologists, gastroenterologists/liver disease specialists, physician assistants, nurse practitioners, nurses, and primary care physicians.

Accreditation Statement

The American College of Endocrinology is accredited by the Accreditation Council for Continuing Medical Education (ACCME) to provide continuing medical education for physicians.

Credit Designation

The American College of Endocrinology designates this enduring activity for a maximum of 1.25 AMA PRA Category 1 Credit(s)™. Physicians should claim only the credit commensurate with the extent of their participation in the activity.

Maintenance of Certification

Successful completion of this CME activity, which includes participation in the evaluation component, enables the participant to earn up to 1.25 MOC Medical Knowledge point(s) in the American Board of Internal Medicine's (ABIM) Maintenance of Certification (MOC) program. Participants will earn MOC point(s) equivalent to the amount of CME credits claimed for the activity. It is the CME activity provider's responsibility to submit participant completion information to ACCME for the purpose of granting ABIM MOC credit. Aggregate participant data will be shared with commercial supporters of this activity.
Disclosures/Conflicts of Interest

Disclosure Policy

In accordance with the ACCME Standards for Commercial Support, The American Association of Clinical Endocrinology (AACE) requires that individuals in a position to control the content of an educational activity disclose all relevant financial relationships with any commercial interest. AACE resolves all conflicts of interest to ensure independence, objectivity, balance, and scientific rigor in all their educational programs. Furthermore, AACE seeks to verify that all scientific research referred to, reported, or used in a CME/CE activity conforms to the generally accepted standards of experimental design, data collection, and analysis. AACE is committed to providing learners with high-quality CME.

Disclosures

The planners, reviewers, editors, staff, CME committee, and other members at the American Association of Clinical Endocrinology who control content have no relevant financial relationships to disclose.

Faculty Disclosures

| Name | Relevant Financial Relationship | Ineligible Company |
| --- | --- | --- |
| Lawrence Blonde, MD, FACP, MACE | Consulting Fees | AstraZeneca |
| | Consulting Fees | Gilead Sciences, Inc |
| | Consulting Fees | Corcept |
| | Consulting Fees | Merck & Co |
| | Consulting Fees | Salix |
| | Consulting Fees, Research Grant | Novo Nordisk |
| | Consulting Fees, Honorarium, Research Grant | Sanofi |

Disclosure of Unlabeled Use

AACE requires CME faculty (speakers) to disclose when products or procedures being discussed are off label, unlabeled, experimental and/or investigational, and any limitations on the information that is presented, such as data that are preliminary, or that represent ongoing research, interim analyses, and/or unsupported opinion. Faculty in this activity may discuss information about pharmaceutical agents that is outside of US Food and Drug Administration approved labeling. This information is intended solely for continuing medical education and is not intended to promote off-label use of these medications. AACE does not recommend the use of any agent outside of the labeled indications. If you have questions, contact the Medical Affairs Department of the manufacturer for the most recent prescribing information.
Disclaimer

The American Association of Clinical presents this information for educational purposes only. The content is provided solely by faculty who have been selected because of recognized expertise in their field. Participants have the professional responsibility to ensure that products are prescribed and used appropriately on the basis of their own clinical judgment and accepted standards of care. The American Association of Clinical Endocrinology assumes no liability for the information herein.